A plot plan is an architectural drawing that shows all the major features and structures on a piece of property. The information included on a plot plan can vary by project and region, but will generally include the location of all buildings, porches, decks, and sheds. The plan may also include swimming pools and landscaping features, as well as underground and aboveground utilities. Most plot plans will also show the lot lines marking the boundaries of the property along with a brief description of adjacent properties.
Plot plans are typically required with all permit and zoning applications submitted to local permitting agencies. They may be used during zoning reviews or as part of the construction permit review process. The plot plan helps the reviewing agency check for conflicts with neighbors, building codes, or surrounding utility lines before a permit is issued. The plot plan can also be used to plan landscaping designs or special outdoor features like decks or pools. Once the plan is approved, it may be used by the builder when laying out the property.
Local permit or zoning agencies issue their own specific requirements for plot plans. In many cases, the plan must be drawn to scale so that features are shown in relation to one another. A directional arrow or compass should be shown that indicates how the property is oriented. Dimensions are often required as well, though in some cases, only building or overall dimensions need to be shown. The location of existing structures as well as all proposed changes or additions should be included on the plot plan.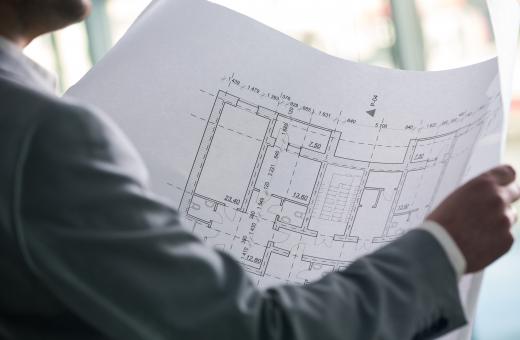 More complex plot plans may require elevations and land contours, which require the work of a surveyor. This may include simple elevation changes or items such as driveway slopes or curb cuts. In instances where trees or building features may interfere with overhead utility lines, pictorial elevations may be required to illustrate how the lines will be protected.
Depending on the complexity of the project, plot plans may be drawn by surveyors, architects, engineers, or homeowners. When developing a plot plan, it is easiest to start with an existing plot plan or plat, which can often be found at the local land records office. If this plan is not available, the person creating the plan must start from scratch by taking measurements or surveying the land. Once the plot plan is submitted to the local permit agency, a copy is often kept on record for future use or reference.
AS FEATURED ON:
AS FEATURED ON:

By: peuceta

Plot plans typically include the location of underground and overhead utility lines.

By: Vladimir Gerasimov

Blueprints must be approved against plot plans before construction can commence.

By: CandyBox Images

More complex plot plans may require elevations and land contours, which require the work of a surveyor.

By: fallesen

Plot plans will generally include the location of smaller structures like sheds.

By: anyaberkut

A plot plan may include designs for a swimming pool and landscape features.