What Is a Mattress Topper?
A mattress topper is quite simple to define. It is merely a cushioned pad that sits on top of a mattress. The occasional one will have straps, which can be placed around each corner of the bed to minimize slipping or sliding of the pad.
Many use a mattress topper to compensate for a bed that feels too firm. These extra layers of cushioning are an invaluable resource for easing pressure-related aches, especially for those who are not active sleepers and tend to stay in one position for most of the night. Side sleepers, in particular, are more prone to shoulder and hip issues because these areas bear most of our body weight when lying down.
Consumers can find specially-constructed toppers for hip pain, shoulder pain, and back pain, depending on their specific needs and sleep habits.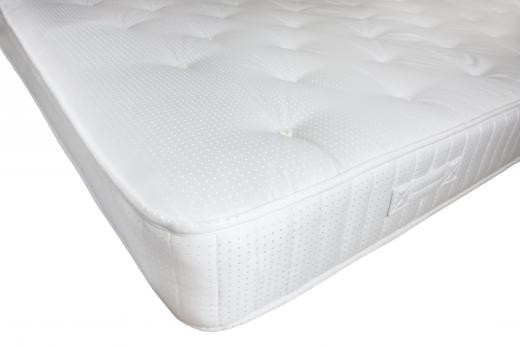 For years either egg crate foam or thin feather beds were the most popular types. They were available to fit any size bed, and sometimes the economic minded simply purchased egg crate foam cut to size from a futon or industrial store. Since both were often available for less than 50 US dollars (USD), they were an inexpensive means to extend the life of a bed that was proving uncomfortable.
Most mattress toppers now are made with memory or visco elastic foam, which many feel is a much more comfortable and hypoallergenic alternative, especially to goose down. Still some miss their feather bed topper, and this has led to styles that incorporate both the features of goose down filling and memory foam.
Thickness counts when choosing a memory foam mattress topper. The least expensive ones, are likely to provide the least comfort, and are usually only about an inch (2.54cm) thick. A thicker memory foam topper, possibly three to four inches (7.62-10.16cm), is likely to be far more expensive.
The combo goose down memory foam mattress topper offers about one inch (2.54 cm) of memory foam and an inch or two of goose down on top of it. You should bear in mind that while memory foam is hypoallergenic, goose down definitely is not. Some people are allergic to down, or to the dust mites down collects. People who love goose down often buy a special hypoallergenic cover for the down/foam pad to help reduce dust mite allergies.
Though most mattress toppers are either goose down or memory foam, there are several other varieties available. Some have soft wool covers, providing lots of warmth on cold nights. Others may be made using polyester fill that provides less than an inch of padding. Some mattress toppers try to bridge the gap between topper and cover. They cover the mattress, fitting like a fitted sheet, may have waterproofing, and can be made of any of the above listed materials.
A problem with a thick mattress topper can occur. Sometimes regular size fitted sheets won't adequately fit the mattress topper. You can purchase sheets with extra deep pockets, but these often are more expensive, and a little more challenging to find.
AS FEATURED ON:
AS FEATURED ON:

By: barneyboogles

A mattress topper is a soft cushion that sits atop a mattress to provide extra comfort.

By: diego cervo

Sheets with extra deep pockets may be necessary when using a mattress topper.

By: alessandrozocc

Many people prefer mattress toppers stuffed with goose down.

By: AndreasB

The thickest memory foam mattress toppers are the most comfortable.

By: angelo.gi

Mattress toppers can help compensate for a mattress that feels too firm.

By: WavebreakMediaMicro

Comfort and cost are two key factors when shopping for a mattress topper or pad.