A manor house is a medieval term used to describe the country estate of a noble. Originally built to give the noble a comfortable dwelling while overseeing his lands and vassals, these feudal residences were often meant to be grand and imposing rather than defensive in nature. In modern times, the term manor house may be used to describe any large or expensive home meant primarily for comfort and enjoyment.
The feudalistic system that existed in much of Europe throughout the medieval period and Middle Ages meant that nobles owned most or all of the available land in a country. Granted estates by royalty, nobility had rights to rent, taxes, and goods from their lands. Country estates could be enormous, often including villages, towns, farms, and road systems. In order to keep the land under control, it was necessary for nobles to keep a house on their estates. The original manor homes could take years to build and furnish, creating some of the most grand homes in Europe.
Despite being largely ornamental, a manor house was usually built with some form of defense in mind. A noble who collected taxes and often served as the judge of his domain could never entirely trust his peasants, so many manor houses have moats, drawbridges, and other distinctive defense features. These basic precautions protected the manor house from riots or robbers, while also creating an imposing structure that kept the power balance firmly in mind.
A manor house was distinguished by the presence of a great hall, typically a large room used for many purposes. Some lords would use the great hall as a courthouse, a place to hear cases and dispense judgment when in the neighborhood. The great hall also served as a meeting room where the lord of the manor could meet with his vassals and overseers and get updates on the state of his lands. In some cases, the great hall of a manor house was also used for entertainment, feasts, and parties.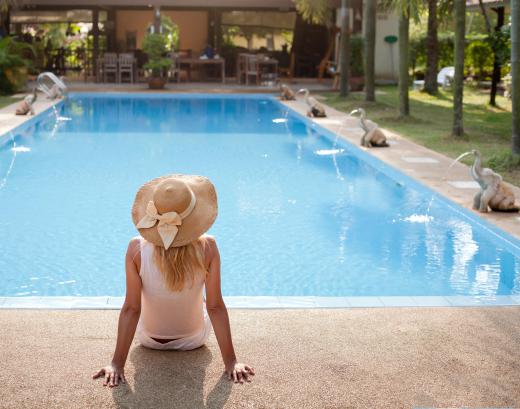 Hundreds of manor houses remain in Europe today, preserved and often restored to serve as tourist attractions and museums. Many have unique historical associations thanks to the families that occupied them; Hever Castle in Kent, England, for instance, is a popular tourist spot as it is the birthplace of Anne Boleyn, the fiery second wife of Henry VIII of England who was later beheaded for treason. Washington Old Hall, near Sunderland, England, is the ancestral home of George Washington.
A modern manor house has little to do with feudalism and much to do with expense and ornamentation. Generally, modern versions of manors are still built in country areas and have large pieces of land attached. Similar to the original manors, modern versions are replete with luxury features, including swimming pools, stables, and detailed landscaping. Furnishings and decor are often ornate, but can be fitted to a variety of styles from 16th century French to modern minimalism. Rather than belonging to nobility, a manor house of today is likely to be owned by a very wealthy individual or family.
AS FEATURED ON:
AS FEATURED ON:

By: Chris Lofty

In modern times, any large, expensive home may be considered a manor house.

By: Negura Dincolo

There are several large manor houses across the English countryside.

By: anyaberkut

Modern versions of a manor house often have luxury items like swimming pools.