A lint brush is an implement used to remove lint accumulated on clothing or upholstery. There are a few different models, but any one can be a useful addition to nearly any home. In addition to lint, this brush can be used to remove other types of debris that cling to textiles, such as pet fur or dust. Some styles are also useful for removing pilling from sweaters.
Typically, the cheapest type of lint brush, sometimes called a lint roller, consists of a roll of paper-backed tape, sticky side out, on a plastic handle. The tape can be rolled over clothes or upholstery to pick up debris, and when the tape becomes very dirty or is no longer sticky, the top layer can be peeled off to reveal a fresh layer underneath. Refills are available for when the roll runs out. The same effect can be accomplished by wrapping some tape around one's hand and moving it over clothing, but the brush may be easier and more convenient for most people to handle.
Another type of lint brush more closely resembles a hair brush, but instead of bristles, one end is covered with a special fabric designed to attract and hold dust and lint. This type can be brushed over fabric similarly to the way one brushes hair, although it usually only works in one direction. For this reason, many of these brushes are reversible models, with a two-sided head or a swiveling head that can be adjusted to suit right- or left-handed users. These tools can be cleaned by rubbing the brush head in the direction opposite to the one that picks up debris.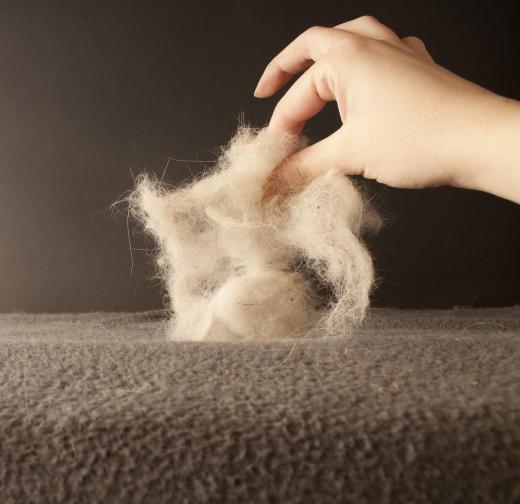 A third model is made completely of rubber and resembles a curry comb. Like a curry comb, it is used in a circular motion over the fabric to be cleaned. This type of lint brush can be cleaned in the dishwasher and is gentler than other styles. It can even be used on delicate fabrics like silk.
One popular lint brush available today is the self-cleaning brush. This uses special fabric to pick up the lint and debris, and a button or lever cleans the brush immediately. The lint is stored inside the brush until it is emptied into a trash can. This model improves upon the basic fabric-backed version because it eliminates the annoyance of brushing your clothes lint-free, only to have a dirty, lint-covered couch when you set the down.
AS FEATURED ON:
AS FEATURED ON:

By: austinadams

Lint brushes are used to remove lint and other accumulated debris from clothing.

By: fotosmile777

Lint brushes can be useful for removing pet hair from upholstery.

By: humbak

Most lint brushes contain sticky paper tape rolled on a plastic handle.

By: Hugh O'Neill

Some lint brushes have specially designed fabric to attract lint and dust.

By: Tyler Olson

A lint brush can help remove particles from upholstery.