A Japanese Pine tree is any one of several varieties of pine native to Japan. Some species are also found growing in South Korea, Northern China, and Southeast Russia. The Black, Red, and White Japanese Pine trees are the three primary types of Japanese Pine, all of which are prized for their attractive evergreen foliage and shape. These trees are used primarily for ornamentation, and many are popular for the art of bonsai, or aesthetic miniaturization of trees in containers.
The Japanese Black Pine tree, sometimes known as simply "Black Pine," grows naturally around the coastal areas of Japan and South Korea. It is a popular horticultural tree because of its natural resistance to pollutants. In Japan, it is often used as a garden tree, and is one of the most commonly used trees for bonsai around the world, taking much care and many years to train properly.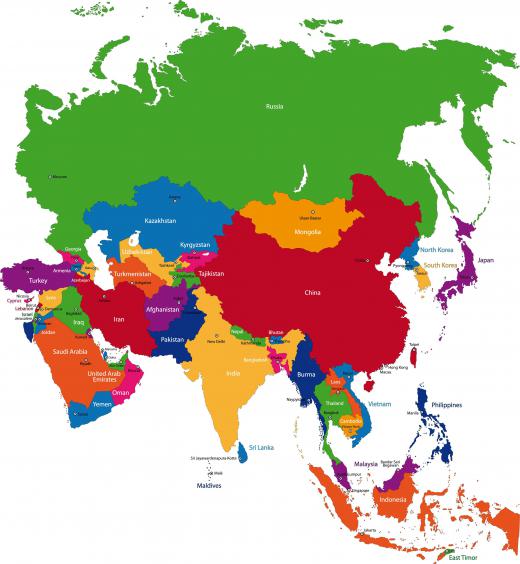 A Japanese Black Pine can grow up to 40 meters (131 feet) in its native range, but rarely reaches this height outside its natural habitat. Its thick bark turns nearly black as it ages, beginning as a light gray color when the tree is young. The tree's needles grow in pairs of two, with a white-colored sheath at the base of growth. In appearance, the tree has been described as elegant, interesting, strong, and stoic.
The Japanese Red Pine tree is found growing in Japan, China, Korea, and in extreme southeast Russia. It is a popular ornamental tree in Japanese gardens, and is also cultivated for its timber. There are numerous cultivars of the Japanese Red Pine, including the "Pendula," which is valued for its interestingly contorted shape.
In appearance, the Japanese Red Pine tree is similar to the Scots Pine, only without the bluish hue typical of a Scots Pine tree. It can grow up to 30 meters (98 feet) in height, and turns a yellowish-green color in the winter months. The needles are also produced in pairs of two, and can reach up to 12 centimeters (4.7 inches) in length.
The Japanese White Pine tree, perhaps the least known of the three, is also referred to as the Japanese Five Needle Pine. Unlike the other types of Japanese Pines, it is in the white pine subgenus, and is used as a horticultural tree in many countries around the world. The tree can grow up to 82 feet (25 m) tall, and typically reaches a width equal to its height, resulting in an attractive conical shape. It produces shorter needles than other types of Japanese Pine trees, reaching only 2 inches (5 cm) in length. This makes it an ideal candidate for bonsai.
AS FEATURED ON:
AS FEATURED ON:

By: Iryna Volina

Various species of Japanese pines can be found growing in Japan, South Korea, northern China, and southeast Russia.

By: Michael Shannon

Japanese Red Pine looks similar to a Scots Pine.