What is a Hobby Greenhouse?
A hobby greenhouse is a small structure in which vegetables, fruits, and flowers are recreationally grown. Unlike large-scale, commercial varieties, these types of greenhouses are much more manageable in size and scope and are intended for amateur gardeners looking to expand their hobby. Buying or building a hobby greenhouse offers enthusiasts opportunities to practice their gardening interests year-round, experiment with new plantings, and increase their knowledge of horticulture.
Hobby greenhouse farming begins with the decision to either build a private greenhouse from scratch or buy a prefabricated greenhouse kit. Though a hobby greenhouse is typically a small, one-room structure, proper planning is essential to either building or purchasing a greenhouse. Hobbyists take into consideration factors like adequate sun exposure, access to water, and the appropriate size and shape of the physical construction. Since the vast majority of these structures are in gardeners' backyards, many find that a hobby greenhouse should be attractive as well as functional.
The siding on most hobby greenhouses is commonly made of glass panels, plastic, fiberglass, or Solexx™, a plastic-like material that diffuses light, provides protection, and lowers heating costs. The frames are typically comprised of polyvinyl chloride (PVC), steel, or wood. Whether or not a hobby greenhouse has a floor is a matter of the hobbyist's personal tastes. Concrete, gravel, and paving stones may be used, though many gardeners lay a simple foundation of wood chips.
Proper heating is a crucial element to greenhouse growing. Hobby greenhouses can be outfitted with a variety of heating options, including electric, gas, and propane; passive solar greenhouses are also available. Hobbyists typically choose siding materials based on heat efficiency. Glass, while arguably the most attractive siding option, doesn't offer the same level of heat efficiency as plastic, fiberglass, or Solexx™.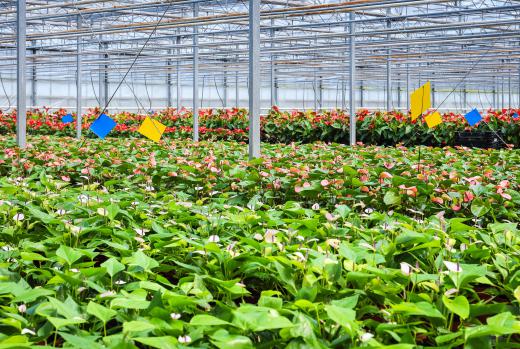 A hobby greenhouse can bring the owner a variety of benefits. Not only does it give gardeners a way to continue their hobby all year around, but it also offers the opportunity to grow plants out of season. Given the highly regulated temperature and light of a hobby greenhouse, a hobbyist can also experiment with different types of plants and different cultivation techniques.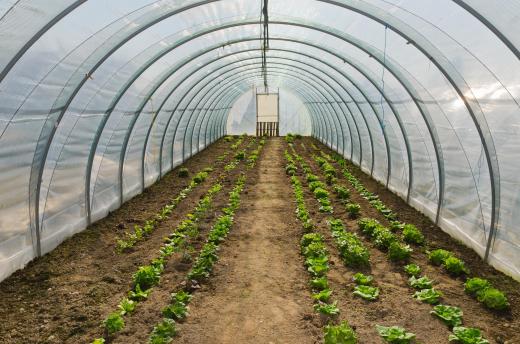 Though hobby greenhouses are traditionally stand-alone buildings, many aspiring hobbyists utilize various locations for their start-up greenhouse. These may include window boxes, sunrooms, solariums, or simply utilizing special lamps to cultivate plants, thereby creating an indoor greenhouse space. The temperature and light control of an actual greenhouse, however, provide the ideal conditions for a gardener to most successfully practice his or her hobby.
AS FEATURED ON:
AS FEATURED ON:

By: Photographee.eu

Various fruits and vegetables can be grown in a hobby greenhouse.

By: nito

Gravel may be used as flooring in a hobby greenhouse.

By: chungking

A hobby greenhouse will typically be much smaller than a commercial greenhouse.

By: PHOTOERICK

A hobby greenhouse may be built from a prefabricated kit.

By: yanlev

Someone who enjoys cooking may grow fresh ingredients in a hobby greenhouse.