In most instances, the term hearth refers to the masonry work surrounding a fireplace or wood-burning stove, and often specifically indicates the brick or tile flooring in or around it. This masonry typically serves the purpose of catching stray ash from the fire, instead of allowing it to land on flammable materials such as wooden floors or walls. The word hearth may also, in many contexts, indicate the fireplace as a whole, and is sometimes extended to mean the general concept of home or family, as in the phrase hearth and home.
Hearths are usually made from stone, brick, cement, or tile. It may cover part or all of the wall around a fireplace, as well as the floor in front of it. It can also include a mantel, which is a shelf above a fireplace that is typically made of wood or stone. For wood stoves, the hearth is often simply a ceramic or stone slab that the stove sits on.
Traditionally, most homes contained a hearth because most people did their cooking over a fire in a fireplace. Also, many buildings derived their warmth in the winter from such fireplaces and wood stoves, and some buildings had two or more of them. There is historical evidence that some governments placed a tax on each hearth in a building.
Hearths come in many shapes and sizes, and are made using a variety of building materials. Often, cooking fireplaces are large fixtures, taking up an entire kitchen wall. Many decorative hearths that are not used for cooking also extend over an entire wall, but this is usually more for visual effect than for functionality. Many others are not large at all, but consist of only the fireplace cavity and the masonry work on the floor to catch the ash.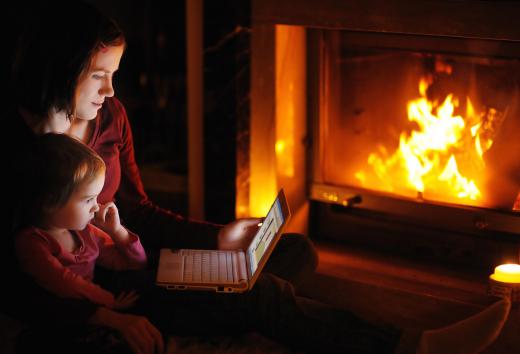 Hearths may be considered a key interior design element in a room. The visual impact of a fireplace can change with the style of hearth that surrounds it. Even sealed, natural gas-powered fireplaces usually have one, even though there is little chance of ash or sparks spilling on the floor.
Hearth materials may come in a variety of colors and styles. Rustic-looking fireplaces may use hewn rock. Contemporary fireplace design may incorporate limestone, marble, sandstone, or even synthetic composite products. Each has a different level of heat resistance, and some materials are better than others, depending on the intended use of a fireplace or wood-burning stove.
AS FEATURED ON:
AS FEATURED ON:

By: Paul Maguire

Hearths are use to catch stray ash from a wood stove or fireplace.

By: MNStudio

A slate hearth may be a good match for a rustic wood cabin.

By: nyul

Proper hearth construction is crucial to maintaining the safety of wood-burning fireplaces in homes.