In construction, a grade slab is a relatively flat concrete structure built on top of the soil at ground level. This simple slab design differs from the reinforced slab technique used for elevated concrete floors, and does not require support from underground footers or foundation walls. The grade acts as the foundation for a home or building, and provides a stable base for walls and other building elements.
Before constructing a grade slab, contractors often excavate the soil in the surrounding area. A geotechnical or civil engineer may be hired to test for soil stability and compaction. Using large compacting machines, the contractor flattens the soil to remove air pockets and allow it to effectively support the concrete slab. The installers pour sand or gravel into the excavated area to act as a sub-base for the concrete, then add a vapor barrier to keep underground moisture from penetrating the slab.
The perimeter of the grade slab is often slightly thicker than the rest of the surface. This thicker section acts as a mini-footer, and helps to distribute the weight of the exterior walls more evenly across the soil. A grade slab may or may not require rebar or wire mesh reinforcement, depending on loads and local building codes. The slab is poured as a single unit, and allowed to dry slowly for several days or weeks to minimize cracking and maximize strength and durability.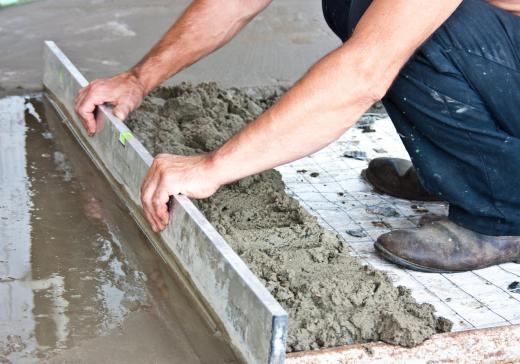 In areas where temperatures dip below freezing during the winter, the edges of the slab must be surrounded by foam insulation to prevent freeze-thaw damage. Typically, sheets of insulation are place horizontally under the thickened edges of the slab, and vertically around the entire perimeter. Some applications also require insulation below the center of the slab, or built into the concrete as it's poured.
The average grade slab contains parallel lines called "control joints" that are filled with caulk or putty to mask their appearance. As concrete dries, it also shrinks, which often results in some form of cracking that can impact the slab's strength and appearance. Control joints are a form of controlled cracking that help to maintain the integrity of a grade slab.
To ensure the grade slab will offer the necessary strength and stability, installers must choose concrete mixtures with care. The water and concrete must be added in exact ratios per the manufacturer's specifications. Too much or too little water may result in spalling, cracking, or other signs of damage.
AS FEATURED ON:
AS FEATURED ON:

By: wittybear

Metal reinforcing bars, or rebar, are often inserted into concrete to add stability.

By: podsolnykh

In many areas, rebar or wire mesh reinforcement are required under a grade slab.

By: thejimcox

A site must be graded and batter boards placed to mark the corners before a slab can be poured.