What Is a Garden Hose Pump?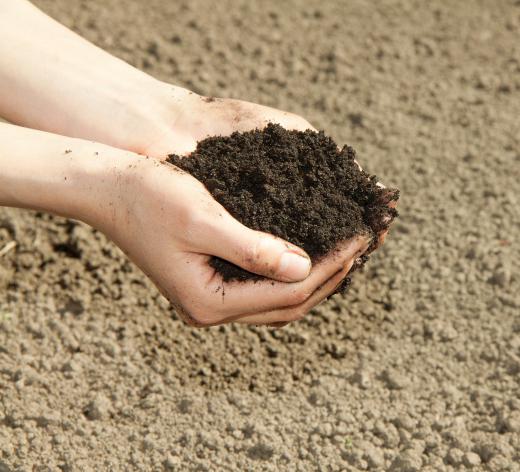 A garden hose pump is a powered device that can be used to increase the amount of water pressure from a faucet or to move water from one area or elevation to another. There are many situations in which the water pressure from a garden faucet is insufficient for regular garden work. One of the main uses for a pump is to irrigate a garden with a network of hoses that can keep the soil moist. Other situations that may call for a pump are when moving water from a location such as a rain barrel into a garden, or draining a small pond. Although there are several mechanisms that a garden hose pump can use, most employ either a centrifugal motor or a diaphragm-based motor.
Certain types of irrigation systems, especially those that use long soaker hoses, can require more pressure than a normal faucet can provide. This can lead to the water not moving through the entire length of the hoses. By using a garden hose pump, the pressure of the water can be increased and the water pushed through the tubing from end to end.
A garden hose pump also can draw water up from a water source. This can be useful when the water needs to be moved up an incline or across uneven terrain. The size and strength of the garden hose pump will determine exactly how far the water can be moved before the pressure dissipates.
One common type of garden hose pump uses centrifugal force to move water. A centrifugal pump draws water up into a cylinder with a spinning impeller. The force of the water as it is moved through the impeller causes the water to increase in speed as it moved through the pump and out into the hose. The faster-moving water is able to move quickly through a hose and has the speed necessary to continue the process, pulling more water in as it exits the cylinder.
The other common type of garden hose pump uses a diaphragm to generate force. This is called a positive displacement pump. A rubber diaphragm is expanded and contracted over and over several dozen times a second. This creates force that draws water into the pump when it is contracted and then pushes the water out the other side when the diaphragm is lowered back down. This type of pump can be very powerful, sometimes requiring a hose that is a certain diameter or re-enforced to prevent bursting.


By: Vasily Merkushev

One of the main uses for a pump is to irrigate a garden with a network of hoses that can keep the soil moist.