A garden auger is a tool that is attached to an electric drill that is most commonly used for digging holes in the soil where seeds, bulbs, or flowers are to be planted. Also known as the bulb auger, soil auger, or planting auger, the garden auger can save time and energy by significantly reducing the need of traditional gardening hand tools, such as shovels, pitchforks, and picks that are used for digging holes. Unlike a manual soil auger, the garden auger is similar to a drill bit and fits either a 3/8- or 1/2-inch (about .95 or 1.27 cm) shaft. Adjusting the speed settings on a power drill will allow holes to be dug at the speed that best suits the job at hand. Holes can be created quickly and easily in a variety of soil conditions, all while remaining in a standing position — thus eliminating the need for bending over.
In addition to planting, garden augers may be utilized in different ways. Used as a tiller, the auger typically will loosen the garden soil or remove unwanted weeds. Compost mixing and aerating duties can be done in less time as well. As a landscaping tool, the garden auger can be utilized as an aerator for the lawn or used where drain tiles, polyvinyl chloride (PVC) piping, or electrical wiring will be laid horizontally. Setting fence posts, posting yard signs, and planting trees are additional uses for the garden auger.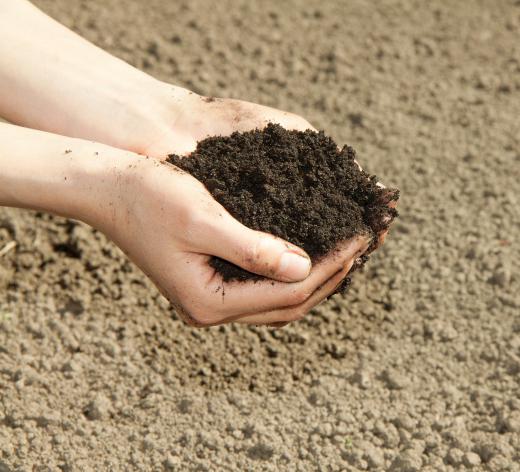 Many companies, such as The Garden Auger, offer a true auger corkscrew design that is similar to an ice auger. This design will automatically lift the soil out of the hole as a person drills. These heavy-duty steel augers generally have a welded-on, steel, hardened cutter blade at the tip for cutting into and through the soil. Such attachments vary in length, ranging anywhere from 9 to 30 inches (about 22.9 to 76.2 cm) long, and will create holes with a diameter of 1.25 to 2.75 inches (about 3.2 to 7 cm) in order to accommodate for the various uses and jobs needed to be performed.
Other companies, such as The Awesome Auger, have a semi-circle cutter and offer 3 and 4 inch (about 7.62 to 10.16 cm) diameter models. The larger diameter sizes give it additional uses, such as concrete and paint mixing. These are not true augers, as the blade will simply displace the soil rather than remove it from the hole. Additionally, a repeated up and down motion of the arms would become necessary to remove the soil from the hole.
AS FEATURED ON:
AS FEATURED ON:

By: Vasily Merkushev

Used as a tiller, an auger typically will loosen the garden soil or remove unwanted weeds.

By: Doin Oakenhelm

Augers -- which are helical drill bits -- may be used for boring into the ground.