The finger cactus is a spiny plant that is native to Mexico and the southwestern United States, particularly Texas and Arizona. Not surprisingly, given its origins, it does well with little water and a lot of sunlight, and tends to rot during cold weather. Its flowers are magenta, with a yellow or white center, and are quite eye-catching despite the fact that they typically only bloom for about a week at time. This perennial shrub is also often referred to as either Echinocereus pentalophus, or a lady finger cactus.
For the best chances of success growing the finger cactus, it should be planted in dry soil in direct sunlight. It can be watered about every four to five weeks, and the soil should be dry for at least a few days before the plant is watered again. Fertilizing the area with a potassium-rich, nitrogen-poor product is recommended, and should be done about every three weeks. The finger cactus can be grown outside in dry soil, or inside in a potted plant or vase, as long as it has access to sunlight. It is also known as a good plant to hang on display.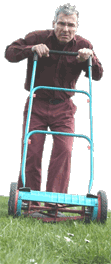 This plant is a medium size in most cases, and tends to stay green year round, as long as there is constant sunlight. The large magenta flowers bloom in the spring, though the stems of the plant often become limp and purple temporarily in chilly weather. The stems of the finger cactus tend to branch out easily, so those looking for lots of flowers on one plant may be pleased with this type. It should be noted that like many species of cacti, the finger cactus is covered with sharp spines, so care should be taken when planting or maintaining it to avoid injury.
There are a few subspecies of the Echinocereus pentalophus, and each one has its own unique traits. The stems of the subspecies pentalophus are usually thicker, and of a lighter green, than similar subspecies, and may be either upright or flat. There are usually anywhere from three to five ribs on each areole, and three to seven spines. The subspecies Leonensis boasts up to nine spines and six to eight ribs for each areole, while the subspecies Procumbens features five to seven spines and four to five ribs. The flowers on all of these subspecies, however, look the same, as they are all magenta with either yellow or white centers.
AS FEATURED ON:
AS FEATURED ON:

Man mowing the grass