A Dutch door is a door which consists of two panels divided in half horizontally, allowing the top and bottom of the door to be closed independently. Classically, the bottom panel is left closed, while the top is left open to permit the circulation of light and air. This door design is also sometimes referred to as a stable, barn, or half door, depending on the region of the world, and it is very common in rural design and homes which are meant to have a rustic look and feel.
Supposedly, this design emerged in the Netherlands in the 1600s. People wanted to be able to leave their doors open to get fresh air and see who was around, but animals would enter the house when the door was open, making a mess and spoiling food. The Dutch door created a barrier in the form of the bottom half of the door which the animals could not cross, while allowing the upper part of the door to stay open, satisfying the needs of the household.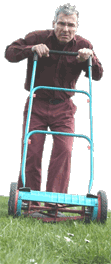 Dutch door designs are commonly used in kitchens and in outbuildings like stables and workshops. They can also be used indoors to create barriers without blocking rooms off from each other. For example, parents might use a Dutch door in a home office to keep toddlers out while still keeping an eye on the household, or pet owners could use a Dutch door to keep animals out of the kitchen without cutting themselves off from guests.
Most Dutch doors include a latch known as a quadrant which allows the doors to be locked together so that they can move as a single unit. The design can include a variety of styles along with features such as windows in the upper or bottom part of the door, and the door may be executed in solid wood, hollow core, and materials like metal or plastic to meet various needs and personal tastes.
Hanging a Dutch door has to be done with special care, as there are two units which can fall out of plumb and create an undesirable look or make it hard to shut the door fully. Extra hinges are usually required to keep both halves secure, and security measures such as locks can be somewhat more complicated with a Dutch door because of the separate halves. Most prefabricated doors include meticulous hanging instructions, and a contractor can provide additional advice or hang the door for a small fee.
AS FEATURED ON:
AS FEATURED ON:

Man mowing the grass