What is a Drinking Glass?
A drinking glass is a glass which has been designed to hold a fluid for drinking. There are a number of drinking glass styles, ranging from generic drinking glasses for milk, water, and juice to specialized drinking glasses like champagne glasses. Drinking glasses are part of a large glassware family known as beverageware or drinkware. They are differentiated from mugs and cups by their glass construction, and the fact that they lack handles. A drinking glass is often sold as part of a set with coordinating glasses in various sizes and shapes.
Most department stores and kitchen supply stores stock drinking glasses, often in coordinated sets. Glass manufacturers usually make examples of every type of drinkware so that consumers can purchase a matched set, coordinating all of their drinkware to match. It is also possible to purchase individual items, or customized drinkware including hand-blown glasses which are one of a kind. Plastic drinkware can also be purchased, for people who are concerned about breakage.
There are three types of drinking glass: everyday, barware, and stemware. Everyday glasses are designed for utilitarian use. They are often tumblers, characterized by the lack of a stem, handle, or foot, and they may come in a range of sizes. Water, juice, milk, iced tea, and other everyday beverages can be served in everyday drinkware. These glasses are often used as tableware, and they are usually durable so that they will withstand regular hard use.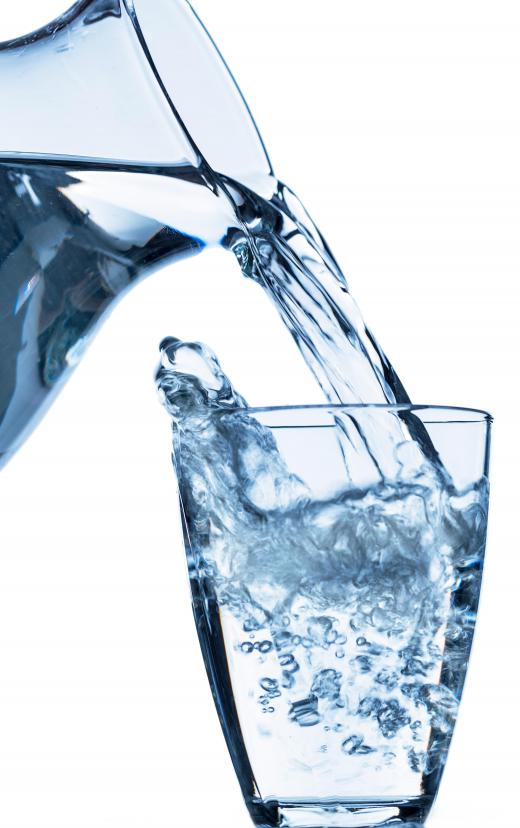 Barware is specifically designed for use with hard alcohol, including mixed drinks, while stemware is formal glassware for serving wines. Barware and stemware are quite diverse, with various designs customized to particular drinks and liquors. Mojito glasses, for example, are slender and tall, while brandy snifters are stemware with large bowls which allow the scent and flavor to develop after the brandy has been poured.
When purchasing a drinking glass or a set of drinking glasses, thinking about the potential to coordinate other glasses in the future is a good idea, as is considering the coordination between the drinking glasses, plates, silverware, and table ornaments. For example, a simple set of everyday glasses in a squared design with blue rims would have different coordination limitations than clear round drinking glasses made with bubble glass. Purchasing things like stemware which come from a large collection is a good idea for people who do formal entertaining, so that matching stemware can be purchased from the same company in the future.
AS FEATURED ON:
AS FEATURED ON:

By: Elenathewise

Stemware, a type of drinking glass.

By: Gina Sanders

Drinking glasses are designed to fold fluid for drinking.

By: okinawakasawa

Iced tea is generally served in everyday drinking glasses.

By: leighboardman84

Barware is designed to hold drinks containing hard alcohol, like mixed drinks.

By: exopixel

Beverageware or drinkware is appropriate for a variety of occasions and is often sold in sets.

By: Artem Furman

Those looking for the best cognac experience should taste from a balloon- or tulip-shaped glass.