What Is a Dishwasher Air Gap?
A dishwasher air gap is a component that is installed in between the drain hose of a dishwasher and a sink drain or garbage disposal. These components can be mounted into a spare sink receptacle, or through a hole drilled in a countertop. There are a few different functions that a dishwasher air gap can perform, all of which are related to the way that dishwashers drain. One purpose that an air gap can serve is to prevent water running down a sink drain from accidentally siphoning water from a dishwasher. The other purpose is to prevent sewage from ever siphoning into a fresh water supply by way of a dishwasher, which is why some local jurisdictions have building codes that require the installation of dishwasher air gaps.
Dishwashers require both a source of fresh water, and a method of draining dirty water in order to operate properly. They are typically connected into a fresh water supply for the clean water, and usually drain into the same pipe as a kitchen sink. Most garbage disposals also include a port that a dishwasher drain hose can be connected to. When a wash cycle completes, most dishwashers have a pump that is used to direct all of the dirty water into the sink drain pipe or garbage disposal.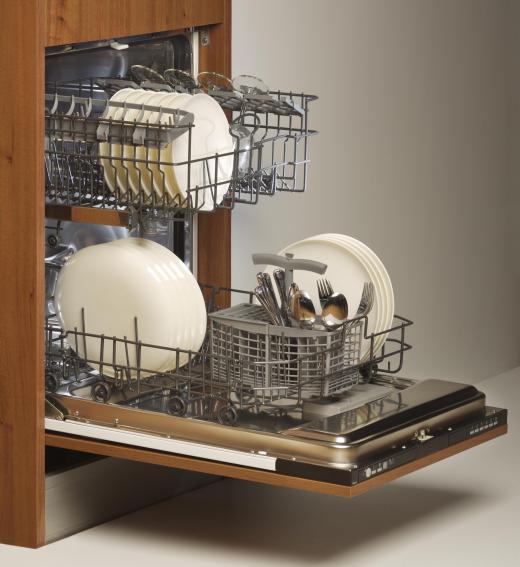 In some cases, a dishwasher drain hose does not connect directly to a drain pipe or disposal. Installations such as these include an additional component, which is referred to as a dishwasher air gap. These air gaps are typically just tubes that have protective or decorative sheaths covering them, and a Y connection on the bottom side. One side of the Y connection is hooked into a dishwasher drain hose, while the other is connected to a disposal or sink drain.
The main reason to use a dishwasher air gap is to prevent a siphoning action, either out of or into a dishwasher. Without a dishwasher air gap, the drain hose of a dishwasher may act as a siphon under certain circumstances. Running water into a kitchen drain may accidentally siphon the water out of a dishwasher, preventing it from operating properly. There is also a chance of sewage entering a dishwasher if it backs up past a p-trap and into a sink drain. If this was to happen, sewage could potentially siphon all the way into the water inlet and contaminate the entire fresh water supply of a community.
AS FEATURED ON:
AS FEATURED ON:

By: mitev

Dishwashers require a way to funnel in clean water and drain out dirty water.