What is a Decorative Charger Plate?
A decorative charger plate is an elegant and underused element of a place setting. Also known as a chop plate, service plate, or underplate, a charger plate gets its "decorative" label because it never directly touches any food; instead it functions as an aesthetic resting place onto which food-bearing dishes and bowls are placed. A charger plate is usually larger than a dinner plate but smaller than a food-serving platter. As it need not hold food, it can be made out of a wider range of materials than regular dishes. In addition to standard china, plates made of metal, wood, mother of pearl, and even leather can be found.
Charger plate etiquette varies slightly depending on the preferences of the host or hostess, but some general rules apply. The plate should be set when guests arrive, placed 1 inch (2.54 cm) from the edge of the table and between the silverware setting. Some hosts remove it before any food is served, but more commonly, soup and first courses are placed on the charger, which is cleared before the entrée is served. Other hosts enjoy the appearance of the plate in combination with the dinner dishes and leave it on the table throughout the course of the meal. Most agree however, that the charger should be removed before the dessert course.
A charger plate is a terrific way to add color and texture to a dinner table. Though the plates are often associated with very formal dinners, they can be used for all occasions to spice up the hosting repertoire. A fine china underplate, sometimes part of a place setting package in bridal registries, is the classic choice for traditional, formal dinner parties. The pattern on these plates often complements the design on the other china, adding a second visual rhythm to the table.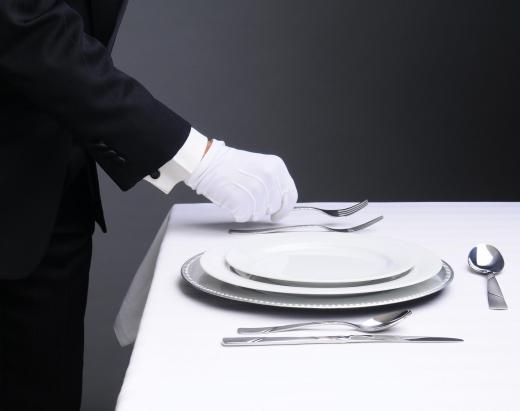 A colorful charger can revitalize day-to-day dinner plates for a party. One with a harmonizing hue or made from a showy metallic material can add a less stuffy touch of class to an informal gathering. Dishes of a neutral color, such as white, can be used with nearly any color of charger.
Charger plates are an easy and inexpensive way to add seasonal variety to your selection of dishes. Holiday-themed chargers are commonly available. Alternatively, a mix of springy pastels and jewel-like winter tones will help match the mood of any season.
AS FEATURED ON:
AS FEATURED ON:

A decorative charger plate never directly touches any food.

By: Steve Cukrov

Charger plates are also known as service plates.

By: littleny

A charger plate was once considered an essential piece for any formal table setting.