What Is a Countertop Overlay?
Refinishing or replacing existing countertops can be expensive, difficult, and frustrating, but a new look countertop can also completely change the appearance of a worn out or outdated kitchen or bathroom. One good way to cut down on costs associated with refinishing is to use a countertop overlay. This system involves placing materials over the existing countertops rather than replacing them altogether. A countertop overlay project may involve using concrete, granite, or other synthetic or blended materials that can be spread over the top of solid countertops without the need for replacement or demolition.
A concrete countertop overlay involves spreading concrete over existing materials to create a new, smooth surface above the existing surface. The concrete can be tinted into different colors to complement existing hardware or cabinets in a kitchen or bathroom, thereby creating a custom aesthetic for a homeowner. The process of installing a concrete countertop overlay can be difficult and is best left to professionals, though it can be done by do-it-yourselfers with enough time and savvy. The important installation step is ensuring the concrete lays flat, which means several coats of concrete is likely necessary, especially over tile countertops on which the grout is lower than the tiles themselves.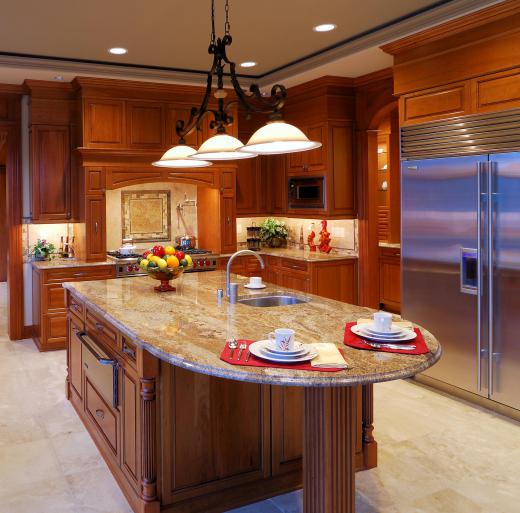 Other types of countertop overlay options involve installing a hard cap over an existing countertop. The cap will need to be custom cut to fit each different countertop, and this usually means a professional must be hired for installation because many materials such as granite or marble are not easy to cut and may require special tools. Before the cap is put into position, a resin epoxy is usually spread out over the existing countertop to even the surface. This resin will harden, creating a layer between the old countertop and the new cap. Then, the new countertop overlay will be put in position and usually glued or otherwise secured in place.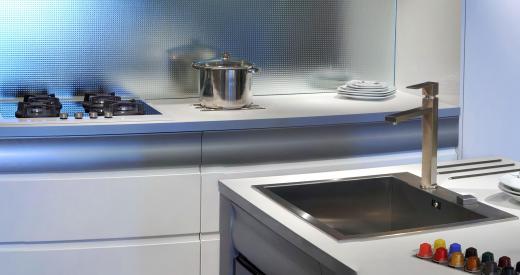 This method of refurbishing a kitchen or bathroom is usually much less expensive than a complete replacement project, but it will be important to have an inspection of the countertops done to ensure an overlay is the best option. If countertops are damaged considerably, this damage will generally need to be addressed before the countertop overlay is installed to help prevent damage to the new surface. Some overlay projects can take several days to complete as well, which means the kitchen or bathroom will probably not be usable during this time.
AS FEATURED ON:
AS FEATURED ON:

By: Harry HU

Granite can be used for a kitchen countertop overlays.

By: Tilio & Paolo

Aluminum and stainless steel countertop overlays are available.