What is a Cotton Sheet Thread Count?
Thread count is simply the number of individual fibers found in 1 square inch (6.45 square cm) of fabric. Finding this number involves calculating the total number of warp and filling fibers or threads contained within that area. One of the most common situations where the figure is very important is in the manufacturing of bed sheets and other types of bedding.
When it comes to sheet thread count, the total number of threads or fibers helps to determine the overall quality of the product. It is important to understand the actual weave of the material, therefore. The calculation begins by making note of the number of vertical, or warp, threads used in the weave of. This is combined with the number of horizontal or filling threads used in the creation of the fabric. Essentially, the more horizontal and filling threads used in the manufacturing of the material, the higher the quality and durability will be.
For people who want bedding that is smooth, comfortable, and likely to last for a long time, the number is of special interest. When cotton bed sheets have a high thread count, that means the weave is tighter, fuller, and has a smoother texture than sheets with a lower count. For many people, knowing this what this number means is the best way to determine the quality of sheets available for purchase.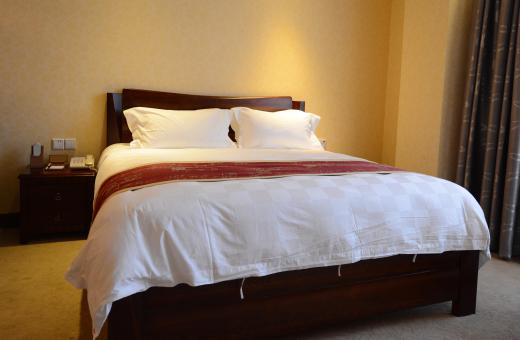 There are bedding sets constructed with a wide range of thread counts. Generally, the lowest count available is 200. Sheets with this type of construction are more likely to be rougher, thinner, and less likely to hold up to repeated use. The lower number also means the sheets will cost significantly less.
By contrast, a sheet set thread count that is 400 or more is much more durable and generally much softer to the touch, but they will also cost more. These sheets will last much longer than those with a low number, however, and over time may outlast two or even three less expensive sets. From this perspective, the higher count not only provides more comfort but will also save money over the long term.
AS FEATURED ON:
AS FEATURED ON:

By: barneyboogles

Folded cotton sheets.

By: xy

A higher thread count indicates a softer, more durable sheet.

By: rodjulian

Sheets with a thread count of over 400 are softer to the touch and are substantially more comfortable than sheets with a lower thread count.

Cotton bolls on a branch.

A field of cotton.