What is a Cleaning Plate?
Many people keep a set of silver flatware on hand for display or use on special occasions. Although silver is known for its aesthetic qualities, it has the tendency to tarnish over time. Some methods of removing tarnish are costly and labor-intensive, such as scrubbing the items with a silver polish, but these are being phased out, as other more convenient methods are discovered. One quick and easy way to clean tarnished metals is with a cleaning plate, a small sheet of metal alloy with holes in it, which removes tarnish through the process of electrolysis.
Unlike traditional chemical polish abrasion, a cleaning plate washes away tarnish without removing any of the underlying silver. Usually cleaning plates are made from aluminum alloy, and are perforated with holes to increase their surface area. They come in many sizes, but perhaps the most common size is six inches by eight inches (15 by 20 cm). For use, the cleaning plate is placed in any container large enough to hold the silver item, and warm water is added. Also added to the container is sodium bicarbonate, or baking soda. The silver item, as long as it is touching the aluminum cleaning plate, comes clean after a short time of being in the solution.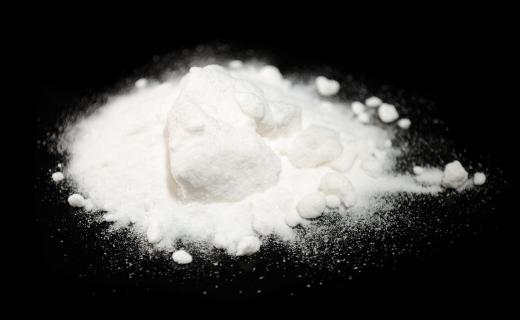 Some people prefer to use washing soda rather than baking soda because it is also inexpensive and works well for this application. Others prefer the use of lemon juice and an abrasive sponge for removing tarnish. A cleaning plate is made of aluminum, and it is also possible to remove silver tarnish with aluminum foil. The foil is used in the same way as the cleaning plate, and salt and baking soda are added to very hot water to make a cleaning solution. It should be noted also that this method may cause a noticeable sulfur odor, so good ventilation may be helpful.
The usual tarnish on silver is a black silver sulfide, which the cleaning plate helps remove by facilitating a rapid and simple chemical reaction. The reaction proceeds in the following way: the aluminum, when in contact with the silver sulfide tarnish in a water solution, reacts with the tarnish and the water to yield elemental silver, aluminum hydroxide, and an aqueous solution of hydrogen sulfide. The baking soda or washing soda speeds up the reaction, and when the silver is clean, it simply needs to be rinsed and dried, along with the cleaning plate, and the water solution is then discarded. Removing silver tarnish in this way is fast and convenient. However, it is important to avoid doing it in a porcelain sink, because it can easily stain from the dissolved tarnish.
AS FEATURED ON:
AS FEATURED ON:

By: Vidady

Baking soda can be added to a cleaning plate used to restore tarnished silverware.