A candy dish is a dish which is used to display candy. Candy dishes are typically set out at parties so that guests can help themselves to sweets, and in some households, a candy dish may be kept in the hallway or in a reception room at all times for the benefit of guests. Candy dishes are designed to make people feel welcome in a home, and they are a traditional form of hospitality in many cultures around the world.
Any number of materials can be used to make a candy dish or candy tray. Some take the form of bowls, which may be covered or uncovered, and it is also possible to find flat dishes, or trays on feet which elevate the tray about the table. Many candy dishes are decorated; cut crystal is a popular choice for a formal candy dish, for example. In some households, an antique candy dish may be used to offer old-fashioned hospitality to guests.
Candies in a candy dish may be individually wrapped, or unwrapped and set out on the tray to make it easy for guests to grab a candy without coming into contact with the other candies in the dish. Candied fruits, chocolates, mints, toffee, and a wide variety of other candies can be used, and things like nuts may also be included in a candy dish for variety. Some cultures value an array of candies, in which case the dish may have multiple compartments for different types of candy.
When guests encounter a candy dish, they are usually expected to take one or two candies for consumption in the home. While some hosts may invite guests to stock up on candy to take home with them, most prefer to see people enjoying the contents of the candy dish. Hosts who are sensitive to food allergies may keep a nut-free or sugar-free candy dish so that all guests have a chance to enjoy the candy. People with food sensitivities should always ask about the contents of a candy dish to be safe.
In addition to being seen in private homes, candy dishes and candy trays are also sometimes seen in businesses. Business owners may keep a candy tray by the counter for their customers, and some office workers like to keep a communal candy dish for the benefit of everyone in the office, with people taking terms stocking the candy dish. The United States Senate even has a candy desk, a jumbo-sized version of the traditional candy dish.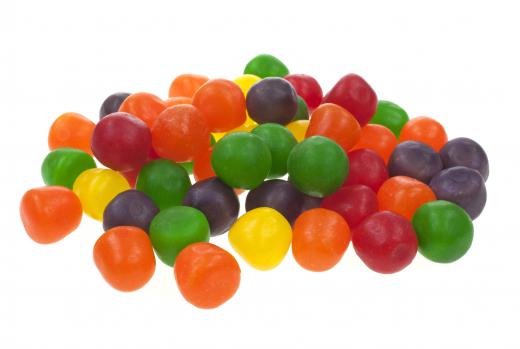 Many home supply stores sell candy dishes, as do some candy stores. When choosing a candy dish, people may want to think about the décor in the room where the dish will be used, so that they can choose something which blends well with the decorating scheme. Considerations about the potential for being airtight are also advised, especially if candy is going to sit in the dish for an extended period, or if a house has an ant problem.
AS FEATURED ON:
AS FEATURED ON:

By: Bert Folsom

Classic horehound candy.

The Senate Candy Desk, an over-sized version of a traditional candy dish, is located on the Republican side of the chamber.

By: Nenov Brothers

A candy dish may be used to display chocolates.

By: Bert Folsom

Candies in a display dish can be left wrapped or unwrapped.