A can opener is a device that opens cans. There are several different types that open different sizes of metal food cans. Basically, one works by first puncturing the metal and then cutting around the circular top of the can to remove the lid. Oddly, the can opener was invented about 50 years after metal cans were invented. Before that, people used tools such as hammers, chisels, and knives to open the thick tin cans.
When cans were made thinner, inventions for opening them became possible. The first one was patented by Connecticut's Ezra Warner in 1858, and his design is known as a bayonet and sickle type. The bayonet part punctures the metal can and the sickle mechanism removes the lid to open it. Warner's device still left rough edges, and it wasn't used in households, but rather by grocers and the American military.
William Lyman invented an easy to operate can opener with a wheel-shaped cutter in 1870, and the Star Can Company of San Francisco added a serrated edge to Lyman's design in 1925. The first electric model was invented in 1931, and it took the idea of the cutting wheel and made it electric. This design kept evolving to eliminate problems, such as using a magnet to prevent the lid from falling into the can.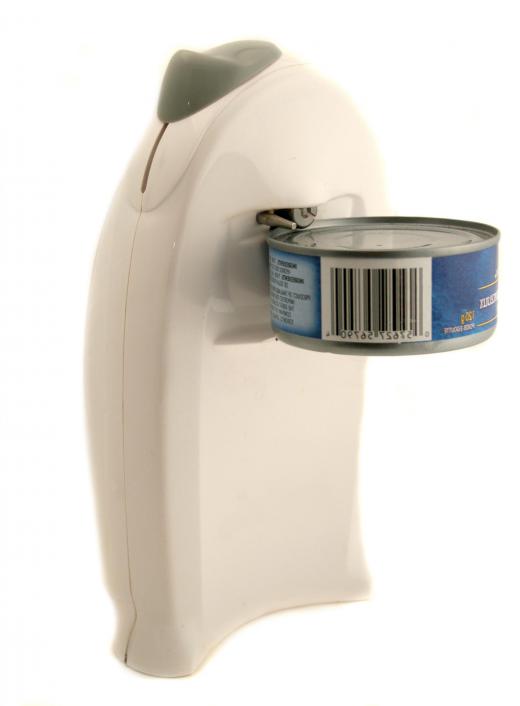 Handheld or manual openers are still used today, especially on camping trips. Electric can openers were once wall-mounted, but today under-cabinet and freestanding versions are popular. Although many modern households use electric models, it's a good idea to have a manual one handy in the home in case of a power outage.
The freestanding type of can opener was first invented by Walter Hess Bodle in the early 1950s, and his invention was manufactured by the Union Die Casting Company in the 1950s and 1960s. These freestanding versions were available in popular colors of the time, including avocado, turquoise, and bright pink. Can openers that don't leave any sharp edges on the lid are now available, as are types that open extra large cans.
AS FEATURED ON:
AS FEATURED ON:

By: Denis Junker

A classic can opener has a wheel for cutting around the can.

By: Graça Victoria

Walter Hess Bodle invented a type of freestanding can opener in the early 1950s.