What is a Calcium Nitrate Fertilizer?
Calcium nitrate fertilizer is a compound often used on and around different kinds of food crops in order to raise the calcium and nitrogen content of the soil to an optimum level. In addition to raising the pH levels of the soil, it also improves the efficiency with which other nutrients are absorbed into the soil. The form of nitrogen in this type of fertilizer is most easily absorbed into plants.
All plants require calcium and nitrogen in order to survive. If the soil they are planted in does not have the optimum content of these nutrients, the plants can suffer along with the flowers or fruit that they bear. Applying calcium nitrate fertilizer raises the amount of nutrients in the soil, along with helping the plants absorb other key nutrients more efficiently. This type of fertilizer also has the added benefit of helping the soil retain nutrients such as magnesium and potassium; when these remain in the soil instead of being washed away by water or rain, they have a higher chance of being absorbed and making plants healthier.
Calcium nitrate fertilizer is made up of nitrate nitrogen and a form of calcium that easily dissolves in water. Nitrate nitrogen comes from nitric acid, which alone is a highly poisonous substance. Once the nitric acid is neutralized, usually using a form of ammonia, it is no longer dangerous. It is then combined with calcium to create a crystal form. This can either be applied directly to the plants or dissolved in liquid to create a form that can be sprayed on to the soil or plants.
Spraying liquid calcium nitrate fertilizer on crops can have a number of benefits. When added to flowering plants, it can help these plants retain their flowers for a longer period of time. It can also keep apples from tasting bitter, and when applied to other fruit trees, it can result in healthier, fuller fruits. Careful application to leaves can also help the entire plant absorb soil nutrients more thoroughly, as well as aiding in the prevention of various leaf spot diseases.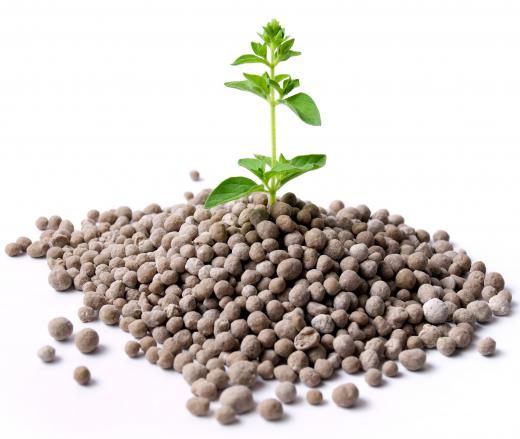 There are two different types of calcium nitrate fertilizer. One is suitable for use in small areas such as the home or in a greenhouse, and dissolves completely and quickly in water. The other does not dissolve as quickly, creating a time-release effect suitable for outdoor crops and agricultural use. Due to the soluble nature of both types, it is important to store the fertilizer correctly to keep it from getting wet before it is used.
AS FEATURED ON:
AS FEATURED ON:

A farmer spreading calcium nitrate fertilizer.

By: monropic

Calcium nitrate fertilizer raisins the pH level of soil.

By: Sinisa Botas

Calcium nitrate fertilizer can be used to increase the rate at which nutrients are absorbed into the soil.