The bath towel is a common feature in many homes today, where people are likely to see not just one but many. They are most often used for drying the skin and hair after washing, especially full body washing in bathtubs or showers. Given their common nature, it might be surprising to learn that the average terrycloth towel made of looped or piled cotton or cotton/polyester blends is a fairly new invention. Terrycloth didn't become the main material for towels until the 1890s; prior to that most towels were made of linen. People didn't bathe as much either, so towel use was certainly not as high.
Today there are many different sizes of towels and bath towel usually refers to size and shape, which certainly has some variance. Average size of these towels, which are normally rectangular, is about 30 inches (76.2 cm) wide by 60 inches (152.4 cm) long. Some people prefer larger towels, which may be called super size or jumbo size or merely are known by the name bath sheet. These are usually both longer and wider, which may be more comfortable for adults of more than average size.
One of the main needs for any bath towel is absorbency, and here 100% cotton towels are usually better at absorbing moisture than are cotton/poly blends. Polyester doesn't tend to draw in moisture. On the other hand, some cotton/poly blends are better than very thin towels with little to no pile or looping. Thin towels that are usually very inexpensive may not dry very well, and it's often better to spend a little more to get towels that are 100% cotton and thicker because they will more effective.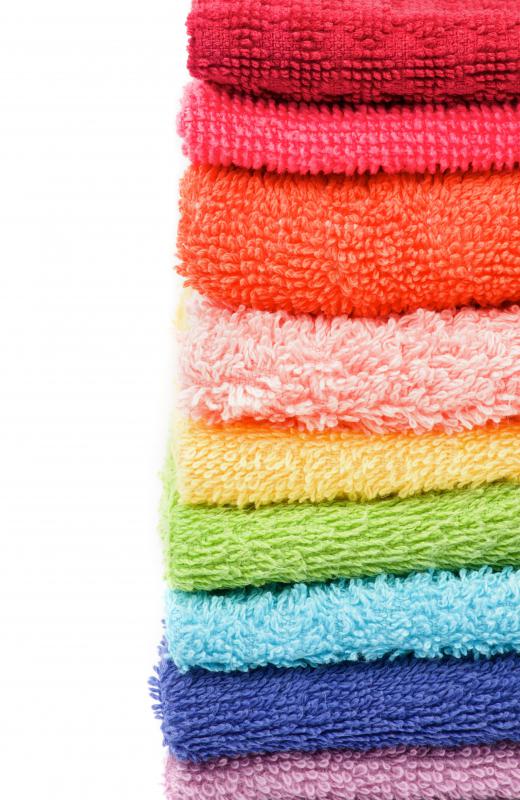 Though people may use a bath towel for drying off after bathing or showering, they may also use them after swimming, or to wipe up wet messes on the ground. For instance a glass of spilled milk could take a number of dishtowels or paper towels to clean up, but pressing a bath towel on the milk instead may be more efficient and effective. Old towels that are too ratty for use in the bathroom can also be used as cleaning or drying rags.
Bath towels come in numerous patterns and designs suitable for a vast variety of bathroom décor. Many are a single color, but color availability is significant. Others may have prints, stripes, or jacquard. Some towels are marked about six inches from each end with what is a called a dobby border. This is a flatter portion of the towel made with a separate weave. Others towels merely feature a hem around their borders, which can help to prevent fraying and ripping during numerous washes.
Many people have had the distinctly unpleasant experience of finding there are no towels when they get out of the shower or bath. When it's laundry day and a good towel substitute is needed, there are a few things to try. These include:

Three to four hand towels, which will make up about the same size as a bath towel or six to eight washcloths
100% cotton receiving blankets, usually at least two
Most woven cotton blankets
Flannel sheets
A generous supply of thick paper towels
AS FEATURED ON:
AS FEATURED ON:

By: araraadt

Bath towels are used to dry off after showering or bathing.

By: zhekos

Bath towels come in many different sizes, colors, styles, and materials.