What does a Home Designer do?
A home designer is someone who draws plans or sketches of potential houses in order for them to be built. There are two main types of designer. Architects draw blueprints, or detailed plans, which include dimensions and other specifics used by contractors to build the home. These plans usually include a floor plan and outside view. Other designers only draw the physical characteristics of a home or room without including detailed plans on how to build the home.
The most widely known type of home designer is the architect. These are professionals who use specialized tools to draw and plan the appearance and dimensions of a home or building. Formerly, they used drafting materials like paper, pencil, protractors, and rulers to design the homes. Today, they use specially designed software applications to plan homes faster and more accurately.
Other home designer professionals focus on drawing the physical aspects of the house, including the exterior and rooms. This can include interior decorators who are trained to sketch specific rooms and have a good eye for color coordination, furniture placement, and decor items. When designing a new home or building, this type of designer may work hand in hand with an architect to ensure that his or her design ideas are structurally possible. Sometimes the same person can do both.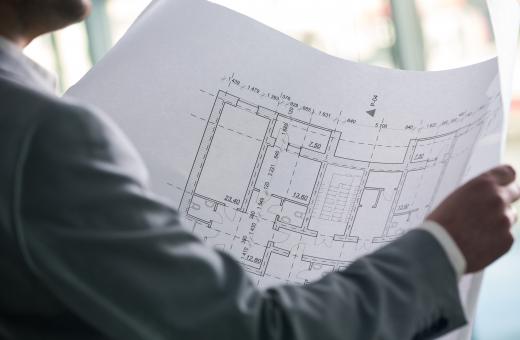 In some areas a home designer will be required to get specialized training. This is especially true for architects. This can range from a certification program to a four-year college degree. Sometimes they can be self-taught on using the correct software, although many employers prefer those with some college classes completed.
Salaries for a home designer vary based on education level, location, experience, and type of work. Most can earn a very good living, especially those who work for large firms or who are self-employed. Many times an experienced architect or designer can work from home using their own computer. This makes it a flexible career option.
The demand for home designers is higher in some areas than in others. How much work there is to go around will depend heavily on the real estate market at any given time, and how quickly contractors need new home designs. Many designers also work on commercial buildings, as these often need new designs more frequently than homes. Some designers may create their designs on "spec," meaning they sell their designs after they have been drawn. This allows them to sell the same home design to many different clients.
AS FEATURED ON:
AS FEATURED ON:

By: S. Rogo

The work of a home designer will include the floor plans of a house.

By: Vladimir Gerasimov

Home designers interpret blueprints drafted by an architect.

By: olly

Some home designer professionals focus only on drawing the physical aspects of a home.

By: twixx

Some home designers sell the same building plans to several different clients.