What Are the Pros and Cons of Using a Small Dishwasher?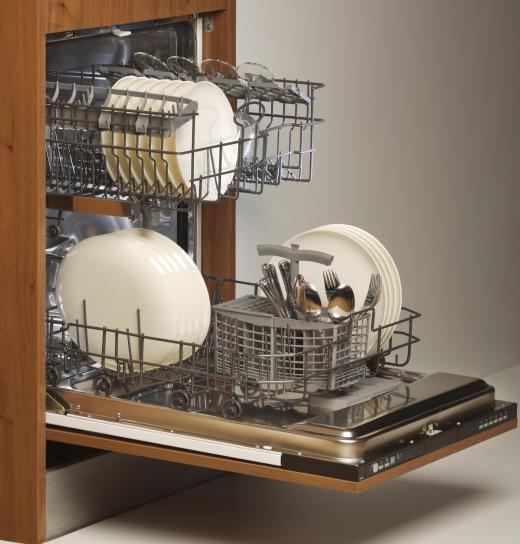 A Small dishwasher can be a great addition to many living spaces, particularly cramped ones. Like other types of dishwashers, they have a number of pros and cons. In addition to taking up less space, small dishwashers typically cost less and use less water and electricity. On the other hand, there is less space inside these dishwashers.
One major advantage of a small dishwasher is the price. Compared to their larger counterparts, compact dishwashers are typically much more affordable. In addition to costing less to purchase, a small dishwasher also saves the consumer money on utilities. Since it is much smaller, it will use much less water and electricity during a wash cycle. An owner will also need to use less soap.
Probably one of the biggest reasons that many people choose a small dishwasher, however, is the size. These can fit into cramped spaces where a larger dishwasher may not. This is great for individuals with small kitchens or students living in dormitories. They also are convenient for individuals looking to get a dishwasher for recreational vehicles or boat.
Some small dishwashers may even be portable. A portable dishwasher is on wheels, and it can be rolled out of the way when not in use. A countertop dishwasher, which sits on top of a counter, is another type of small dishwasher. Some people, however, may not want or be able to move a portable or countertop dishwasher.
Another disadvantage of a small dishwasher is that there is less space inside. This means that larger items will not usually be able to fit inside. Stock pots, tall vases, and similar items must usually be washed by hand.
Since there is less space inside a small dishwasher, they are also unable to wash large loads of dishes at one time. Unlike large dishwashers, only a few dishes can usually be washed at a time. This means that a person will either have to wash part of a large load by hand, or split it up into two separate loads. Both options can be time consuming and tiresome, not to mention wasteful of water and electricity.
For this reason, a smaller dishwasher is probably a better option for a small household with one or two people. Older couples, for instance, may benefit more from a small dishwasher than a family of six. Although a small dishwasher is typically less expensive, a larger dishwasher may be the superior choice.


By: mitev

Small dishwashers use less soap and water.