What are the Pros and Cons of Glass Shelving?
Some benefits of using glass shelving are that it blends in well with almost any decor, it is easy to keep clean, and it allows for creative use of lighting to help highlight decorative items. In addition to the benefits of glass shelving, there are a few drawbacks. Glass shelves are often not as strong as shelves made of steel or wood, and a person will typically need to be careful not to put anything too heavy on top of it. Shelves made of glass also tend to be very fragile, and it doesn't take much force to break them. An entire glass display shelf could shatter into tiny pieces if anything strikes it or if it happens to fall.
Glass shelves are often referred to as floating shelves because they tend to blend in so well with decor that many people may not immediately notice them. This might be particularly beneficial if a person wants to showcase a special item without allowing the shelf the item is sitting on to draw attention away from the item itself. The clear glass also makes it easier to showcase items from all angles using special lighting. Many people associate glass shelving with bathroom decor because they are often used in bathrooms, but they have become popular for use in other rooms of the home as well.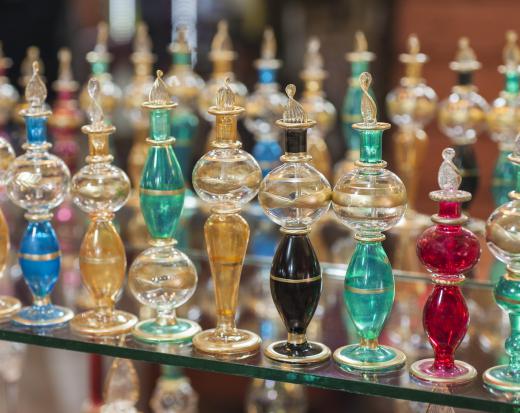 Many types of floating glass shelves come with tiny supports that are not immediately visible when a person looks at the shelves. These supports help to make glass shelving appear to be floating, but they may not be a good choice if heavier items are placed on the glass. Glass shelving can occasionally support heavier items, but strong support braces must often be used to hold them up. These supports may be more noticeable than the smaller supports, but they are typically necessary if a person wants to place a heavy item on the glass. It may be possible to paint over the stronger support braces with a color that would match the walls to help make them less noticeable.
Some people might shy away from using glass shelving because it tends to be so fragile. Glass shelves may not be a good choice for a home with children or house pets, because it wouldn't take much force to cause it to break. Some types of glass shelving are made from tempered glass, which may make it less dangerous if it does break. Unlike regular glass, tempered glass shatters into many small rounded pieces rather than into jagged, dagger-like pieces.
AS FEATURED ON:
AS FEATURED ON:

By: Paul Vinten

Glass shelving is often used to highlight decorative items.

By: Bruno T

Handling some types of glass may require specialized tools.