What are the Pros and Cons of an Exposed Aggregate Driveway?
One of the choices for driveway surface material is exposed aggregate. There are various pros and cons of having an exposed aggregate driveway, with one of the benefits being its durability. There are also several color and texture choices, allowing homeowners to perfectly match or contrast the surface with their house. Unfortunately, it is difficult to put down exposed aggregate without the help of a professional. Additionally, it typically needs to be resealed every few years in order to continue looking good.
An exposed aggregate driveway is typically durable, which is not surprising since it is made out of concrete. This is usually a desirable trait of any surface on which cars will drive or be stored, and is also a good characteristic to have in areas with extreme weather, as it can withstand direct sunlight, snow, rain, and ice. Unlike some surfaces, exposed aggregate should last years with limited maintenance, as it is quite rugged. Additionally, it is nonskid due to the small stones layered on top of the concrete, which means that cars are unlikely to slip on the surface, even when it is wet.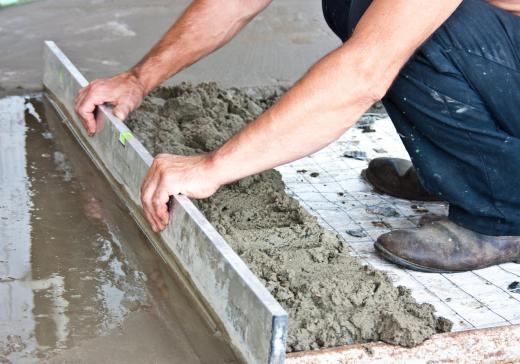 Homeowners who want more color choices than gray or black should be happy with an exposed aggregate driveway, as the tiny stones on top can be various colors. This allows the surface to match the colors of the home's exterior, though it can also contrast nicely if that is the desire of the home's owner. The texture also ranges depending on the size of the stones on top, as they can be particularly tiny or larger. Another benefit of this material is that it does not usually show tire marks since it is composed of different colors, allowing it to hide stains easily.
A downside of an exposed aggregate driveway is that most homeowners need to hire a professional to lay the surface. This is because the aggregate needs to be poured, exposed, washed, and then sealed. The process can take weeks, and the typical homeowner does not have the knowledge or experience to do it alone.
While it does not take much maintenance to keep this type of driveway looking good due to its ability to hide stains, it needs to be sealed initially in order to look glossy. It then needs to be resealed about every three to five years to retain the glossy appearance. It is also advised that homeowners occasionally spray the driveway down with a hose to keep it looking new.
AS FEATURED ON:
AS FEATURED ON:

By: podsolnykh

Exposed aggregate requires a much wetter mix than traditional concrete.