What are the Pros and Cons of a Tension Curtain Rod?
The pros and cons of a tension rod are directly related to the manner in which the item is installed and the amount of weight or pressure it can withstand. Installing tension curtain rods does not require tools and does not damage walls, which means that these kinds of curtain rods are fast and easy to install. One of the drawbacks of a tension curtain rod is that it is often less stable than a curtain rod that is more permanently affixed. This means that a tension curtain rod is more likely to fall or be pulled out of place than a traditional curtain rod, which may pose a danger to households with small children.
In addition to tension curtain rods that are used to hang window dressings, tension curtain rods also are used to hang shower curtains. One of the benefits to this kind of tension curtain rod is that it keeps the person installing the rod from drilling through materials such as slate and tile that are common in bathrooms. Walls in other rooms are often made out of material such as drywall, which can be drilled into with ease. Slate and tile, however, are likely to crack and become damaged if they are bored into with nails or drills. When using a tension curtain rod in a bathroom, one must be gentle when opening and closing the curtain to make sure that the entire contraption doesn't slip out of place and fall.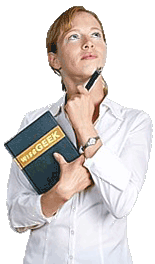 Some people find it convenient to use a tension curtain rod temporarily while they are making large scale decorating or remodeling plans. A tension curtain rod also is useful for people living in a space temporarily. For example, a person who plans to live in an apartment for a matter of months might use a tension curtain rod. Not only would this save him the trouble of mounting a traditional curtain rod, but it would also save him the trouble of managing the repair. This is especially true as most landlords require tenants to either fill in holes that they leave in apartment walls or pay to have a contractor fix them.
AS FEATURED ON:
AS FEATURED ON:

Woman holding a book