What Are the Different Vacuum Cleaner Parts?
There are countless different models of vacuum cleaners currently on the market. The main vacuum cleaner parts are common to most models, however. The different parts include a motor, a fan, an intake, an exhaust, a dust container or bag, and a housing to hold it all. In addition to these basics, many vacuums come with an array of extra features, like rotating brush rolls and extra cleaning attachments.
All vacuums work on the same general principle, using suction to draw dirt off the floor and then trapping it in the vacuum for later disposal. Different models utilize the same or similar basic parts to accomplish this task. The process starts with an electrically powered high speed motor that turns a fan. The fan spins extremely rapidly, using its angled blades to draw air upward through another part, the intake, into the vacuum. This creates the suction that lifts dirt off the floor into the vacuum.
Once the dirt is being sucked from the floor in a stream of air, other vacuum cleaner parts come into play. The most common parts for holding the debris are vacuum bags and dust cups or containers. Both of these parts fulfill the purpose of trapping and holding the debris until it can be disposed of. The air and debris pass through this area, and the particles of dust and dirt are trapped in the bag or container, while the clean air continues to travel through the vacuum cleaner, exiting through the exhaust. Once full, a bag is removed and thrown away, or the dust cup is emptied and put back.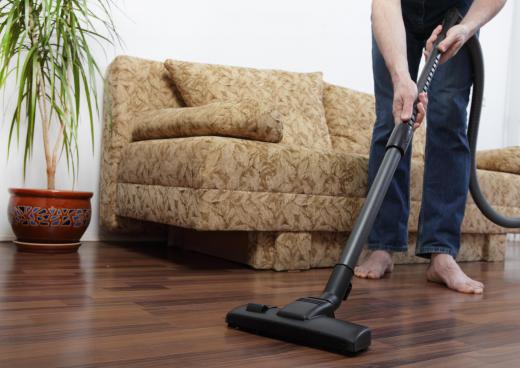 All of these operating vacuum cleaner parts are contained in a housing, which is the outer casing that holds everything. Often constructed of plastic, housing come in a wide variety of colors, shapes, and sizes. They also have wheels to make the vacuum cleaner easy to maneuver, and a power cord for plugging the vacuum into an electrical outlet.
Another of the different vacuum cleaner parts is a rotating brush roll. Such brushes usually rotate rapidly to beat the dirt and dust out of carpets and help to sweep it up into the vacuum cleaner's suction. Another typical part is an extension hose for reaching small, hard-to-reach areas for cleaning. Frequently there is an assortment of cleaning attachments for the hose to use on particular surfaces. Many vacuums also include filters to help trap extra fine particles of debris, especially near the exhaust to ensure that the air exiting the vacuum is clean and free of dirt.
AS FEATURED ON:
AS FEATURED ON:

By: skala

Robotic vacuum cleaner.

By: Lilyana Vynogradova

A man using a vacuum cleaner.

By: vetkit

Canister vacuums are smaller than stand-up models.