What are the Different Types of Zen Gardens?
Several different types of Zen gardens, or Japanese rock gardens, exist, with the most popular being the dry rock garden, or karesansui. Strolling gardens are another popular type of restful garden design used in Japan. The other main types of Zen gardens are the tea garden and courtyard garden designs.
The Zen gardens that most people are familiar with are rock gardens. These minimalist creations are normally waterless, and feature a variety of rocks. These rocks may include a combination of small pebbles to large stones. Sand may also be included in rock gardens, though the basic traditional form stipulates that only gravel and stones be used. Traditional rock gardens often include moss, though this element is not essential to the landscape.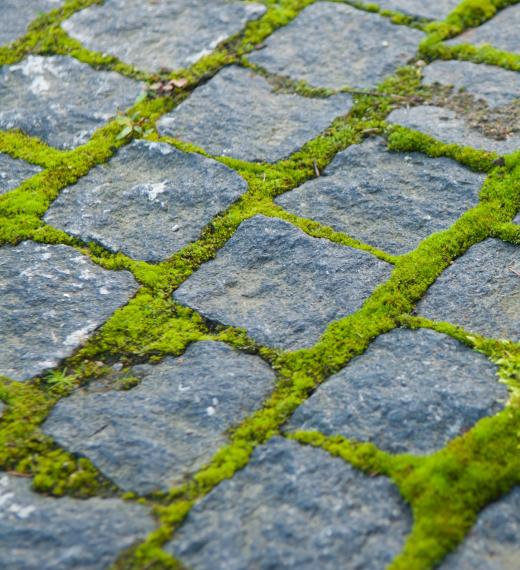 Strolling Japanese gardens exist in two varieties. They may be large, lush landscape gardens, called Tsukiyama, designed for meditative walking. The other type of strolling garden, the Kaiyu-Shikien, is also known as a pleasure garden. Most Kaiyu-Shikien gardens have been transformed into Japanese parks. They may be hilly or flat gardens, and consist of as much spiritual imagery as other types of Zen gardens.
Small Zen gardens nestled in between buildings or narrow spaces are known as courtyard gardens, or Tsubo Niwa. These gardens came into existence when Japanese merchants decided to build small gardens on their properties in between their exterior buildings during the 15th century. Unlike rock gardens, a variety of materials can be used to adorn these gardens, including lanterns, stepping stones, and a variety of plants.
Tea gardens, or Cha Niwa, are meditative gardens within another, larger garden. A courtyard garden may also be a sort of tea garden. Tea gardens often include specific structures, such as lanterns and water basins. A place to sit and acquire a peaceful mind, often prior to a tea ceremony, is integral to the tea garden.
Though most of these examples are life-size gardens, large enough for people to walk through, miniature Zen gardens also exist. They may be as small as a book or paperweight, handmade with wood scraps, or assembled with a kit. Many people enjoy keeping these gardens on their desks to help relieve stress, or to serve as conversation pieces. Many different designs with a wide variety of accessories are available, including miniature treasure chests, lawn chairs, or even golf courses. Just as life-size gardens are maintained with rakes and other equipment to foster gentle designs, miniature Zen gardens usually come with a small rake for the same use.
AS FEATURED ON:
AS FEATURED ON:

By: Alex Petelin

Mosses, like that growing between these cobblestones, is often used in a zen garden.

By: David Gn

The most popular type of Zen garden is the dry rock garden.