What are the Different Types of Wood Stoves?
Wood stoves are used primarily for heating spaces, and sometimes for cooking food. They are so named because their source of fuel is wood or a wood derivative, in contrast to gas or electric stoves or radiators.
The first method of using wood to heat a space or provide heat for cooking was in fireplaces. Fireplaces are most often stone-worked insets into the wall of a house, with a base for a fire to be built upon. The front is open, although it may be guarded with a metal or glass screen, allowing heat to radiate out openly. Most fireplaces have some sort of vent opening to the outside to allow smoke to escape and to draw air through to keep the fire burning strongly. The space through which air may pass may be adjustable, allowing the strength of the fire to be moderated.
While stone and brick are traditionally the most popular construction materials for a fireplace, in recent years, prefabricated fireplaces have begun to catch on. These fireplaces usually consist of a metal box with an open front, often with a wooden facade to help it blend in with the rest of the house. Prefab fireplaces are much cheaper than stone or brick ones, though they offer less opportunity for customization and are overall less durable.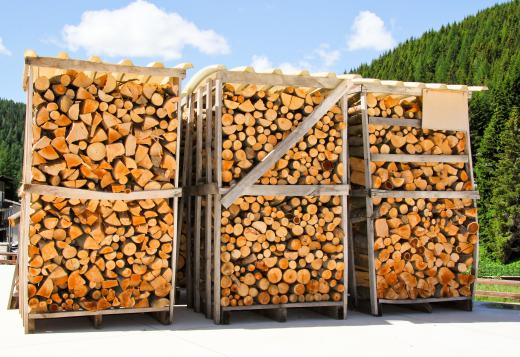 By the 18th century, a number of innovative alternatives for heating were developed. As wood stoves go, the fireplace is quite inefficient, and smoke is a regular problem. The new style contained the fire entirely within a metal box, allowing much more of the wood to be burned completely, reducing smoke dramatically, and improving heat efficiency by leaps and bounds.
The Franklin stove is probably the most famous example of early boxed wood stoves. This style used of metal piping to carry the smoke and hot air from the fire through the house before venting it to the outside, making use of its heat before dissipating it. By the 1840s, a number of improvements had been made on the basic design, providing greater heat efficiency and further reducing emissions. In the modern age, these stoves have become even more efficient, with high-end Jotul stoves using nearly 70% of the energy they burn — a drastic improvement over the 20-30% one can expect from traditional models.
There are three main types of modern wood stoves, discounting the fireplace design. Box stoves contain the fire within a metal box, but are not airtight as they have a relatively loose door design; most inexpensive stoves are of this design. Airtight stoves improve upon the box model with a completely sealed box and a door that shuts airtight. They offer either an automated or manual method to increase or decrease airflow to the stove to modulate the strength of the fire.
Pellet stoves make use of electronic regulators and an alternative type of wood fuel to operate. Their pellets are made from pulped and formed wood, often recycled from waste wood pulp, and burn at a regular temperature and speed. These stoves automatically dump more fuel in as needed, as determined by an electronic timer and sensor. They are increasing in popularity because their heat is nearly identical to that of traditional wood stoves, but they are very efficient and more ecologically friendly with their use of a waste product as a fuel source.
AS FEATURED ON:
AS FEATURED ON:

By: Paul Maguire

There are various types of wood stoves.

By: erikazanier

Wood stoves use cut fire wood as an energy source.

By: markcarper

Prefab fireplaces use gas burning logs instead of wooden logs.

By: Coprid

Pellet stoves burn eco-friendly wood pellets.