What Are the Different Types of Wardrobe Fittings?
Wardrobe fittings are accessories that can be mounted inside a wardrobe for more storage and organization. The most common wardrobe fittings are rails for hanging garments; these rails work in conjunction with wire or plastic hangers, and some wardrobes feature more than one rail for different lengths of closing. For example, a wardrobe may feature a rail mounted high in the wardrobe for longer garments, and another rail mounted lower for shorter garments such as pants and blouses. Other fittings include tie and belt organizers, shirt trays, shoe trays, trouser racks, and even mirrors.
Shoe trays or racks are wardrobe fittings usually designed to fit at the bottom of a wardrobe. The rack will keep shoes neat and organized, and it will prevent the shoes from being damaged from impacts, exposure to moisture or sunlight, and so on. The rack may be tiered as well to allow for storage of multiple pairs of shoes in a smaller space; the shoes can essentially be stacked on top of each other without damaging one another. Other shoe racks or organizers may hang from the rail, arranging different pairs of shoes vertically rather than horizontally.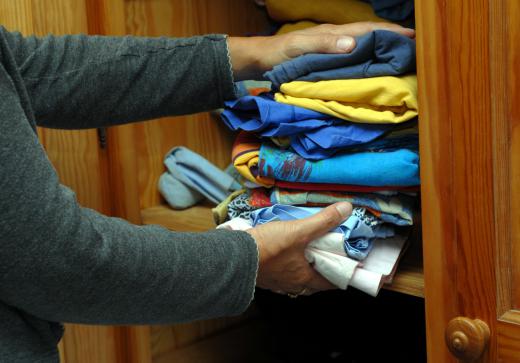 Shirt trays are wardrobe fittings that essentially act as shelves. They are sometimes made from wire, though other types are made from wood or metal. The purpose of these wardrobe fittings is to allow storage space for folded shirts, sweaters, and other items one does not want to hang from a hanger. These shelves or trays do not necessarily need to be used for shirts, either: shoes can be stored on them, as can hats, accessories, or other garments such as pants, socks, underwear, and so on.
Tie and belt organizers are common wardrobe fittings that do not take up a lot of space. They can, in fact, sometimes be mounted to the inside of the wardrobe doors to capitalize on this unused space. The racks keep ties and belts from becoming tangled or lost in the shuffle, and a person can access the ties and belts easily without wrinkling the ties or damaging the belts. The rack often moves to allow easier removal of items.
Mirrors are sometimes mounted on the backs of wardrobe doors as well. The mirror may be small and meant only for viewing the face and chest, or it may be full-length, depending on the size of the wardrobe and the needs of the wardrobe owner. Some mirrors are better than others: a mirror with a solid backing can be mounted without distorting the view, while mirrors with soft backing may create a carnival-mirror effect.
AS FEATURED ON:
AS FEATURED ON:

By: Richard Villalon

The kinds of accessory pieces used in a wardrobe depends on the specific compartments the storage furniture has as well as the needs and preferences of its owner.

By: Paul Maguire

Wardrobes may feature rails for hanging garments.