What are the Different Types of Walk-In Showers?
There are three customary types of walk-in showers: standard, self-contained shower stalls; showers that include a bathtub; and handicap-accessible showers. These three main types can come in several different styles with an array features. Styles include rustic, spa, and doorless, and among the many features that can be added, chic tiles, multiple shower heads, Jacuzzi® tubs, and steam showers are a few of the most popular.
Traditional walk-in showers are upright enclosures with either a door or a curtain separating the unit from the rest of the room. Doors may be single or double and can either open out into the bathroom or slide open and closed on a track. This shower type is available in a variety of sizes, from small units that fit one body and not much else to large compartments that can contain benches, shelving, and other accessories.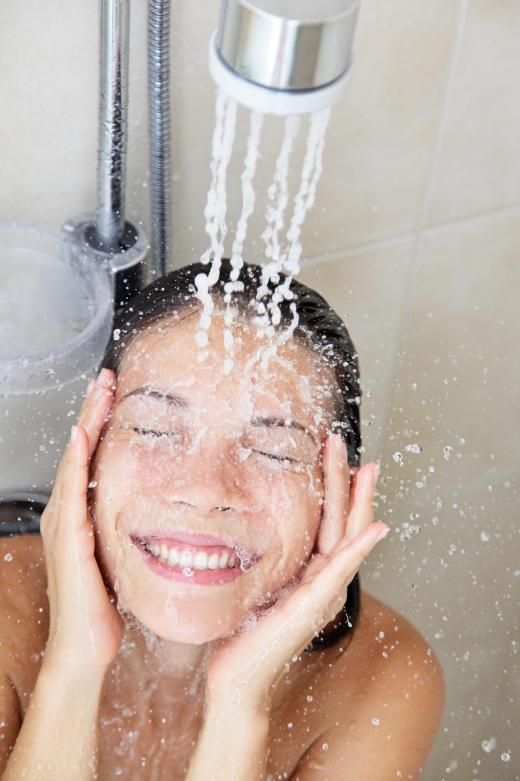 Another standard shower enclosure is a combination shower and bathtub. These walk-in showers can serve as either showering stalls or traditional bathtubs. They can save a considerable amount of money and space as they do not require separate purchases and installation areas for two different units. The shower-tub combination is the most widely utilized type of walk-in shower.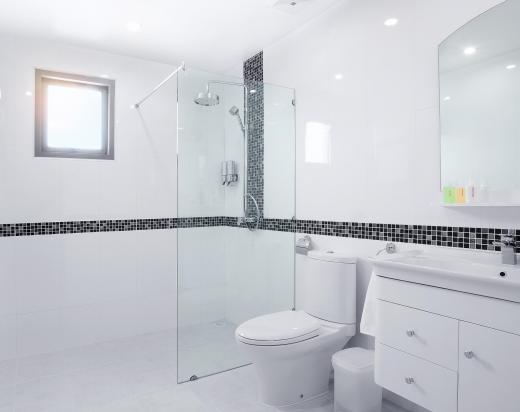 Handicap accessible walk-in showers make it easier for those with physical challenges to maneuver into, within, and out of the shower. Most models do not contain high thresholds over which the individual must step; generally, the shower floor is level with the ground and can be accessed easily. In the shower itself, bars or handrails are often installed along the walls for support and to facilitate movement.
A selection of additional styles and features can be added to any of these three types of walk-in showers. Rustic designs — which are typically made of beechwood and give a natural aura — and spa designs — enhanced with soft colors, massaging shower heads, and stereo systems — are two popular style options. A doorless shower is another commonly utilized bathroom feature. Instead of a claustrophobic stall, the shower is given its own room with plenty of space and proper water containment and drainage.
Any walk-in shower type can benefit from luxury add-ons, such as multiple showerheads or Jacuzzi® bathtubs. There are also walk-in showers on the market with built-in steam generators, offering an at-home sauna experience. Even an old unit can receive a shower upgrade by adding these types of features. Just an addition of shower tile or a new tile type in place of the old can go a long way in sprucing up a walk-in shower.
AS FEATURED ON:
AS FEATURED ON:

By: Ariwasabi

Traditional walk-in showers are upright enclosures with either a door or curtain separating the shower from the rest of the bathroom.

By: Dmitry Ersler

Handicap accessible walk-in showers are easier to move in and out of than standard showers.

By: Yuriy Chertok

Self-contained showers, shower and bath combinations and handicap-accessible showers are the three common types of walk-in showers.

By: Minerva Studio

Some walk-in showers are designed to offer an at-home sauna experience.