What are the Different Types of Vinyl Fences?
There are many different types of vinyl fences, but the most common tend to be those designed for privacy; shadowbox panels that feature interlocking panels; and picket fences that often look like regular wooden posts at first glance. People can get really creative with this sort of fencing, though, and customized or personalized designs are quite popular. Vinyl tends to be pretty easy to work with and it can be made to look like like concrete, stonework, and treated wood — often at a fraction of the cost of these more expensive materials. In most cases it's flexible and largely weather resistant, too, which makes it a good choice for many different settings, whether large or small. This sort of fencing is often just as popular in a small garden enclosure as it is to cordon off an entire farm or estate.
Private and Semi-Private Models
One of the most popular types is the vinyl privacy fence, which is used primarily for blocking the view of neighbors and passers-by. These fences are particularly popular choices for enclosing things like swimming pools that might attract trespassers. They block the view almost entirely, so people who don't already know what's on the other side won't have any real way of knowing. Privacy fences typically have tightly interlocked tongue and groove pickets that provide a solid barrier. They're actually made of many different panels that fit into each other, though they sometimes look like a solid wall. A lot of the aesthetics are up to owner preference, since doing things using panels in alternating colors or varying heights can give a very different look.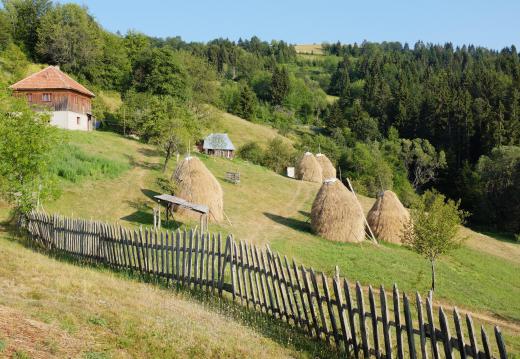 Privacy fences made from vinyl paneling usually stand somewhere between 4 to 6 feet (1.22 to 1.83 meters) in height and come in panels that can be up to 8 feet (2.44 m) wide. Fencing can be purchased in a range of colors and designs, including include crisscross, horizontal, vertical, and woven lattice patterns at the top ends of the fences.
Shadowbox Fences
Shadowbox vinyl fences, sometimes called "semi-privacy" fences, typically have panels that are staggered rather than interlocking, though they tend to overlap. It is usually possible to look in or out through these fences, though it usually takes some effort and viewers usually have to position themselves at certain angles to get a good look. Staggers in the paneling often give the structure a more interesting look. The height of this sort of fence can vary depending on the setting, but most are around 6 feet (1.83 m) tall.
Picket Fences
Another popular type of vinyl fencing comes in the picket style, and is usually designed specifically to imitate the classic wooden picket fence. Traditional picket fences are made up of stakes or posts placed at measured intervals, then connected by two or more horizontal beams. Most of these are used as more or less decorative edging; they can keep pets and children in a yard or other area, but are usually pretty easy for adults to breach and don't block any views. They tend to be shorter than privacy and semi-privacy fences and often have a maximum height of about 4 feet (1.22 m).
Vinyl chain link fences often serve a similar purpose. These sorts of latticed, linked barriers are usually meant to demarcate property boundaries more than they're intended than offer privacy. This is a popular fence choice for gardens and may also be used to cordon off certain areas of a property while still allowing full visibility.
Customized and Specialty Products
It is often possible to customize fences to suit particular needs, both by using a variety of different panels or by designing patterns and designs directly from the manufacturer. Using decorative post caps and suitable vinyl gates can also add to the overall look.
Standard vinyl fencing usually has a smooth plastic look, but this isn't essential. Manufactures can sometimes make vinyl look like wood grain, stone, or even granite by texturing the surface and using different colored resins. The imitation is usually pretty apparent up close, but in most cases they still look very polished and professional. Different companies make different designs and accents, and they usually have different names.
Care and Upkeep
One of the biggest advantages to this sort of fencing is the ease with which it can be maintained. Vinyl is typically weather resistant and can withstand a lot of water, sun, and ordinary wear and tear. Owners are usually wise to wash their fences periodically, particularly after storms, but a hose is often all that's required to keep the posts and panels looking new.
Homeowners should usually check to be sure the fence has stainless steel fasteners, screws, and inserts, though, as these will improve the joint life and can prevent things like rust, which can damage even the toughest vinyl over time. Shoppers are usually wise to buy quality products from a reputable manufacturer that offers a product guarantee. Many fences come with a 20-year to lifetime guarantee, which will cover most environmental damage to the fence.
AS FEATURED ON:
AS FEATURED ON:

By: pb3131

Vinyl fences may have the capability of withstanding weather extremes.

By: ollirg

Vinyl fences are easier to maintain that wooden fences.

A house with a picket fence.