What are the Different Types of Timber Fencing?
Different types of timber fencing are available for various uses. Timber fencing can be constructed for security, privacy, boundary marking, or decoration. The most common types of timber fencing include privacy paneled, picket, and ranch style. Post and rail fences are also a widely used type of timber fencing. Split chestnut fencing can be constructed from timber as well.
The most commonly constructed timber fencing is the privacy paneled fence. This type of fence can also be utilized for security reasons. A privacy paneled fence is typically constructed using thin flat boards, approximately 4 inches (10 cm) wide, attached vertically to a horizontal railing. These vertical boards are mounted closely together to shield the fenced area from view. This type of fence may be treated, stained, or painted, and the tops of the vertical boards can be flat, dog-eared, pointed, or rounded.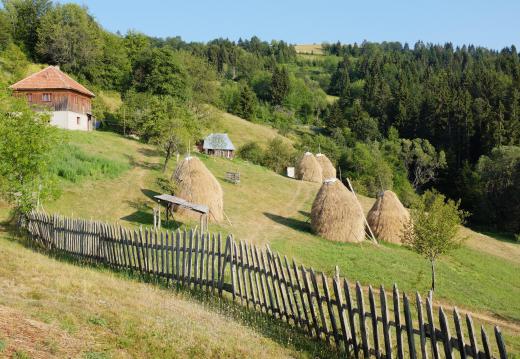 Picket style timber fencing is usually constructed for decorative purposes. This fence consists of a row of narrow flat boards attached to horizontal fence rails. These vertical boards are known as pickets and are usually spaced slightly apart. The tops of the pickets are typically rounded, square, or pointed. Picket style fencing commonly is painted or stained to match nearby structures.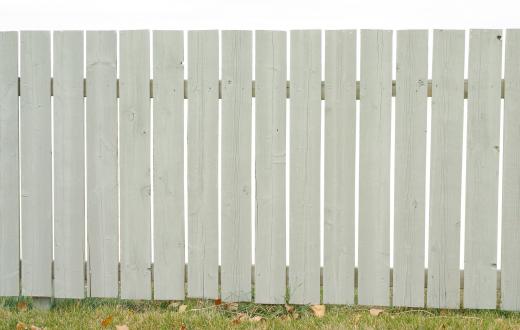 Ranch style fences are also used mainly for decoration and have little security value. A typical ranch design consists of horizontal rails attached to vertical posts. The horizontal rails may also contain additional diagonally mounted boards that form some type of pattern from a distance. The upper rail sometimes has a perpendicular board attached to the top of it for sitting purposes as well. Ranch style timber fencing may be stained, treated, or painted.
Post and rail fencing is typically used for boundary marking or decoration. This type of fence is usually constructed using vertical posts with three or more horizontal rails. The thick vertical posts often have notches cut into them for placement of the horizontal railing. Post and rail timber fencing is generally more economical for covering large areas. This type of fence is normally left unpainted although treated lumber may be used for added durability.
Split chestnut picket fencing is often used in rural settings to mark and secure the boundaries of a large area. This fencing is composed of thin picket boards made of split chestnut wood. The pickets are attached to one another by strands of galvanized wire and connected to vertical posts at regular intervals. Split chestnut picket fencing is usually sold in pre-constructed rolls for easier assembly. This type of fence is usually not painted or treated in any way.
AS FEATURED ON:
AS FEATURED ON:

By: ollirg

Timber fencing on a farm is more likely to be functional than decorative.

By: Johanna Goodyear

Some timber fencing is designed to offer more privacy.

By: Jenoche

Timber fencing may be used to coral livestock.