What Are the Different Types of Serving Tables?
Serving tables set up at events such as receptions and parties can include a wide variety of options, including buffet tables, punch tables, cake tables and hors d'oeuvres tables. If a table is designed for self-service, in which guests fill their own plates, a buffet serving table is usually set up to contain all the different foods within easy reach of the serving line. A gathering with a small number of guests might use what is known as table service, where the food is placed on the actual dining table and passed from guest to guest, family-style. There are different methods of food presentation that are used in both these table setups that can be changed depending on the event, how formal it is, and how many guests need to be served.
A serving table at a catered event where the guests are served similar portions may be set up as a type of table service. In this case, guests generally sit where they will eat and are served there, with no need for food presentation in a separate place at all. A buffet line wherein guests choose the foods they want and servers put the food on their plates can also be used with large numbers of guests.
When food is not going to actually be served to each person, a buffet service can be a good choice for most serving tables. Guests can pass down the table or tables and serve themselves. The food presentation is more important on these types of serving tables for a couple of different reasons. Making all the food visible and appealing is important, and platters and serving trays of food also must be within easy reach of everyone.
Serving tables for almost any kind of event can typically be made from basic, sturdy tables that will not wobble or cause spills. A tablecloth or other covering can make an old folding table a great backdrop for even the fanciest food presentation. Different serving levels can be created by placing boxes, upside-down pans or other objects beneath the cloth as well. This can make food on the back of the table easier to reach and may add visual interest to the display.
Some special events call for unique serving tables and arrangements. Events such as wedding receptions generally have a special cake table, for instance, where the married couple may make the first cuts into the cake before it is served to the guests. A cake server and a cake knife, often with one of the colors of the event in a handle or ribbon, usually make up the reception serving sets traditionally found on these tables.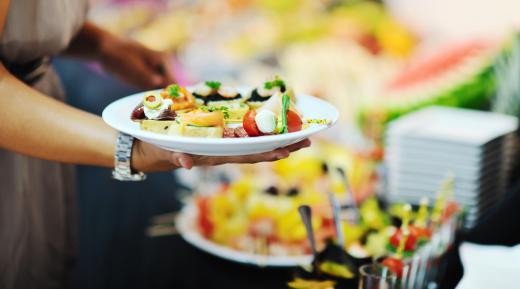 Two other common and specific types of serving tables often used at parties and receptions are punch tables and hors d'oeuvres tables. Punch serving tables are generally reserved for a punch bowl, ladle and the cups used to serve the beverage. Hors d'oeuvres tables are usually filled with finger foods and snacks rather than whole meals. They can be set up in a similar way as a buffet service, with different levels that make it easier for guests to serve themselves.
AS FEATURED ON:
AS FEATURED ON:

By: uwimages

Hors d'oeurves tables offer finger foods.

By: .shock

A buffet line allows hungry people to select the foods they wish to eat.

By: lily

A tablecloth can make an old folding table a great backdrop for an event.

By: .shock

Even traditional buffets typically offer some nutritional options, including fresh fruit and salad ingredients.