What are the Different Types of Pool Tiles?
The different types of pool tiles include porcelain, mosaic, glass, brick and stone. The tile a pool owner chooses will usually depend on his preferences in color, size, and price. Another consideration is texture; while smooth tiles can look great, textured tiles provide better grip.
Porcelain tiles are made using dust that is pressed under high pressure. The result is a tile with a fine grain that is dense and durable and able to withstand heavy traffic. Glazed porcelain tiles, the type commonly used in pools, are ideal for use in any climate because they generally have a lower water-absorption rate than non-porcelain tiles — below 0.5%. These tiles also are much harder, making them impervious to water damage, and their smooth surface makes them easier to clean. Porcelain also is soft to the touch, something much appreciated by many swimmers.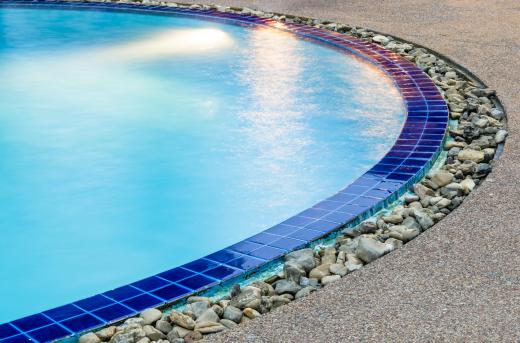 Mosaic tiles are generally smaller ceramic pieces used together to form decorative and colorful accents on the floor and sides of a pool. This type of tiles can be arranged to create elaborate, intricate designs. When used on the pool floor, mosaic tiles should be cleaned regularly to eliminate the build-up of algae, chemicals, and mold.
Glass tiles come in a broad range of deep, rich colors with a glossy shine. Often they are used to create an illusion of depth, making the pool look deeper than actual size. The use of lighting and colors in glass tiles can dramatically alter the look of a pool; light tiles make the water appear brighter and clear, while darker tiles make the water look darker. Glass tiles are waterproof, don't warp or fade, and are easy to clean and maintain. They can often withstand heavy abuse from swimmers and the elements.
Brick pool tiles have long been used to create an elegant, refined look and are known for their durability. The porous surface of brick means that it needs to be sealed for use in swimming pools to avoid damage from water penetration. Sealant will usually need to be reapplied every couple of years to preserve the tiles' look. The most common brick color is red, but it is available in other colors. Brick pool tiles absorb heat.
Stone pool tiles are used to create a more natural-looking pool that emulates its surroundings. Through the use of landscaping and waterfalls, a pool composed of stone tiles can look as though it appeared organically in its setting. Like brick, stone pool tiles absorb heat.
AS FEATURED ON:
AS FEATURED ON:

By: ViewApart

Glazed porcelain tiles have a lower rate of water absorption than tiles made from other materials.

By: ElinaManninen

Smooth pool tiles have a more pleasant appearance, while textured pool tiles offer more grip for swimmers.