What are the Different Types of Pond Water Features?
Pond water features are water displays that are meant to resemble natural ponds. Unlike neoclassic designs or mosaic fountains, pond water features are meant to blend into the landscape. Pond water features can be simple or complex; they may be still lagoons or sparkling with motion of a built-in waterfall. Budget, garden plans, and available space are some factors that can help narrow down the choices between different types of pond water features.
Fish or aquatic animal ponds are quite popular as they provide both an artistic feature and a habitat for unusual animals. Turtles, fish, and frogs can all be raised in a backyard pond. Care must be taken with aquatic habitat ponds to make sure that pH balance and water temperature are maintained at the right level for animals to thrive. Animals may also need protection from local predators such as cats and raccoons through measures such as screens. Aquatic habitat pond water features are often accented with beautiful plants such as water lilies.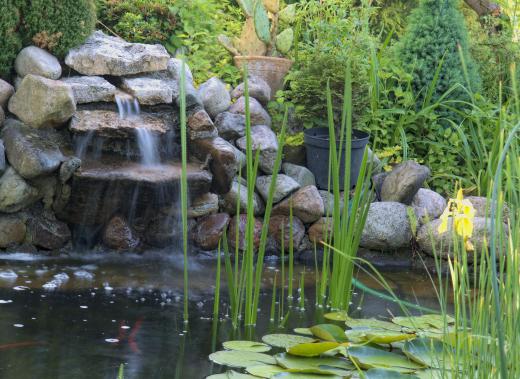 An in-ground pond is one that is built to be level with the ground, giving it the appearance of natural integration into the landscape. In-ground ponds can be made in any shape desired, and smaller versions can be excavated in a matter of hours. For a simple in-ground pond, purchase a plastic pond liner at a garden supply store and cut to cover the sunken pond. Weigh down the edges with rocks or plants, then cover the bottom with stones to provide stability. The pond can then be filled, while landscaping can be used to cover up the edges of the pond liner.
Waterfalls add the beauty of movement and sound to otherwise still pond water features. An in-ground pond can easily incorporate a natural waterfall into the landscaping. To create a natural stone waterfall, hide a simple water pump, found at garden stores, within a cascading pile of large river rocks. Waterfalls can also be added to pond water features using Asian-inspired bamboo pipes. Another option is to install a solar or battery powered fountain spout into the pond that can be anchored down to a location or can float freely around the feature.
Pond water features can be tailored to match nearly any style of garden or landscaping design. Some important things to consider when adding a water feature include the availability of water and electricity for a filtration pump, methods for preventing the growth of algae or mosquito larva, and safety considerations if there are children or animals with access to the pond. Creating a careful plan before installation can help ensure that a pond water feature remains a beautiful and harmonious addition to a garden, rather than a maintenance headache.
AS FEATURED ON:
AS FEATURED ON:

A pond.

By: Tonanakan

Water lilies are one of the most popular aquatic plants.