What Are the Different Types of Paving Stones?
Homeowners who wish to enhance the external appearance of their house may consider using paving stones to replace a patio, pool deck, or driveway. These stones are designed in a variety of colors, sizes, and shapes. Depending on the needs of the project, the different types of paving stones include concrete, sandstone, slate, bluestone, limestone, or granite.
Concrete is possibly the most inexpensive type of paving stone available. It has many applications, thus making it a readily available option for remodeling. It can be purchased in several colors or dyed to a property owner's personal color preferences. Concrete can also be stenciled or stamped for a custom look. One problem with concrete, however, is that it is less durable than other stones, making it prone to cracking.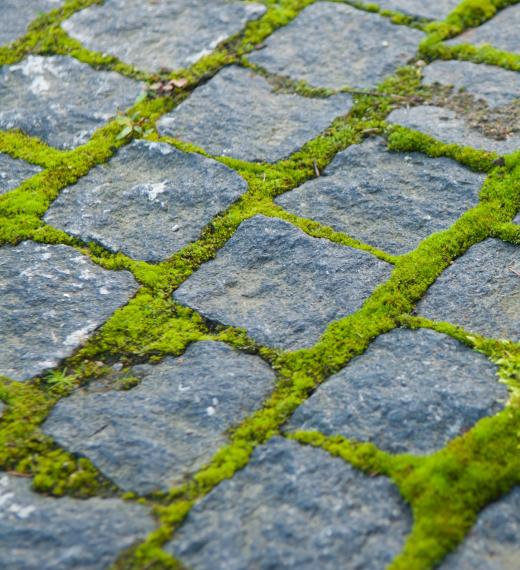 Sandstone is soft and generally easy to work with, thus often making it a popular choice for paving. A sedimentary rock, sandstone is created as feldspar particles and eroded quartz build up. As a paver, sandstone is typically used in courtyards and verandas.
Slate is usually a common choice for patio paving stones due to its durability. Slate is typically slip-resistant, which may be preferred in households with children who play outside. These stones can generally withstand high traffic areas and extreme temperatures and are often resistant to drink and food spills.
Bluestone is a natural product typically dug from rock quarries. As a result, its color depends on the depth from which it was dug. Bluestone extracted from a deep area of a quarry tends to have a rich color and intricate patterns. Since bluestone is naturally porous, it tends to absorb water over the course of several years. When used in paving, bluestone is generally covered with a protective sealer. This sealer can also provide protection from dirt, stains, and scratches.
Limestone is sometimes used as paving stones in many areas of a household such as driveways, walkways, and around the pool area. Limestone is taken from the sea bed in countries such as Italy and Mexico; the stone is also found in caves. It also comes in many colors including beige, pale orange, and green. Custom shapes can also be formed for limestone pavers.
Granite pavers are typically stress-resistant and can handle highly trafficked areas used by cars, trucks, and bicycles. As a result, they may be primarily installed in places like driveways. Granite has been used as a paving stone for many years and is often found in ancient structures and roadways. Granite requires little maintenance and is also heat resistant, thus making it a good choice for a pool area.
AS FEATURED ON:
AS FEATURED ON:

By: Alex Petelin

Moss growing between cobblestones.

By: Pix by Marti

Pavers are made of several different materials and are produced in a multitude of sizes.

By: Deyan Georgiev

Bluestone extracted from deep in the ground at quarries may have other color tones, such as orange and purple.

By: kalpis

Rubber pavers are newer development that are made from recycled rubber.

By: Yali Shi

Limestone is a key ingredient of powdered cement.