What are the Different Types of Paving Slabs?
Several different types of paving slabs can be used to cover both indoor and outdoor surfaces. Paving slabs may be composed of natural materials such as limestone, sandstone, or bluestone. Paving slabs are also available in slate, granite, and marble. Manufactured concrete slabs can also be used in place of natural materials. Each type of paving slab material offers its own unique qualities and finished appearance.
Limestone paving slabs are composed of natural quarried stone. Slabs made of this sedimentary rock material are typically very durable and generally used for courtyards, patios, and walkways. Sandstone is another type of natural sedimentary material. Slabs made of this material are typically very uniform in appearance and texture. Sandstone slabs are frequently utilized for paving courtyards and patios.
Bluestone paving slabs are widely used for surfaces such as driveways, walkways and patios. These natural stone slabs are made of quartz and sand and usually blue-gray in color. Slate slabs, another variant, are generally inexpensive and can be used to pave almost any type of surface. This material must be set in a mortar base in order to be used for driveway paving purposes. Slabs made of slate typically require very little maintenance.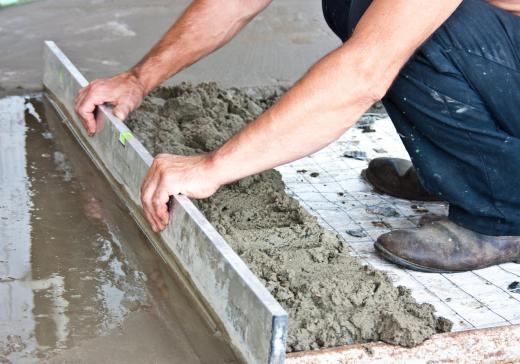 Granite is probably one of the most durable materials used to make paving slabs. These stone slabs are naturally quarried and a popular choice for paving driveways, walkways, patios, and courtyards. Granite slabs are also used for interior flooring and have become less expensive in recent years. Synthetically produced granite slabs are also available for paving applications.
Marble paving slabs are usually the most expensive paving material available. These slabs provide an elegant look to both interior and exterior surfaces. Marble slabs generally offer more natural color choices than other paving materials. Although marble is a very strong material, it is often more difficult to maintain than other types of slabs.
Concrete paving slabs are man-made products that can be manufactured in almost any size, shape, or thickness. These slabs are generally the most versatile choice of paving and can be utilized for both interior as well as exterior applications. Concrete slabs can also be stenciled or stamped with a variety of different designs and patterns. Its relatively low cost makes concrete a very cost-effective paving slab material for larger areas such as driveways. Concrete paving is typically available in a variety of finishes, and special dyes are available to tint these slabs to almost any color.
AS FEATURED ON:
AS FEATURED ON:

By: Christopher Dodge

Paving slabs are often used to create outdoor patios.

By: podsolnykh

Concrete paving slabs may be built on site, and reinforced with rebar or wire mesh.