What Are the Different Types of Laundry Room Accessories?
A well-organized, pleasant-looking laundry room can transform doing laundry from a chore into an agreeable activity. Choosing the right laundry room accessories can be the key to creating a neat, tranquil space. Most laundry room accessories fall under three main categories: storage accessories, sorting and hanging accessories, and decorative accessories.
Storage accessories are perhaps the most fundamental of all laundry room accessories, as they allow the user to maximize space and keep her room organized. Most laundry rooms feature some type of shelving unit which may be open or closed. Whether wall-mounted or freestanding, open shelving units permit easy access to items such as detergents and dryer sheets. Some may find, however, that the exposed look of open shelving units creates a feeling of disorder.
Closed laundry room storage usually takes the shape of wall-mounted cabinets or freestanding lockers. This type of storage allows the user to conceal all of her laundry supplies, and may even include space for larger items such as ironing boards or hampers. Hiding laundry items behind closed doors can instill a laundry room with an atmosphere of tidiness. On the downside, some closed storage units can be expensive and may require professional installation.
Smaller storage accessories are extremely useful for keeping laundry room storage units orderly. Items such as boxes and baskets can be used to separate and organize such items as stain removers, clothespins, and basic sewing accessories. Designated small laundry room storage accessories are widely available from general merchandise and home improvement retailers. Alternatively, using unexpected items, such as ceramic flowerpots, as small storage accessories can add an eclectic touch to one's laundry room.
Sorting and hanging accessories constitute another important category of laundry room accessories. Hampers provide a place to keep dirty clothes until laundry day. Choosing a hamper with multiple sections makes sorting these dirty clothes simple. A hamper with three sections can keep light, dark, and delicate clothing items separated.
Hanging accessories can be instrumental in preserving the appearance of clothing which cannot be machine-dried. It is possible to purchase collapsible, freestanding drying racks as well as wall-mounted racks which fold up between uses to conserve space. Retractable indoor clotheslines are another popular laundry hanging choice.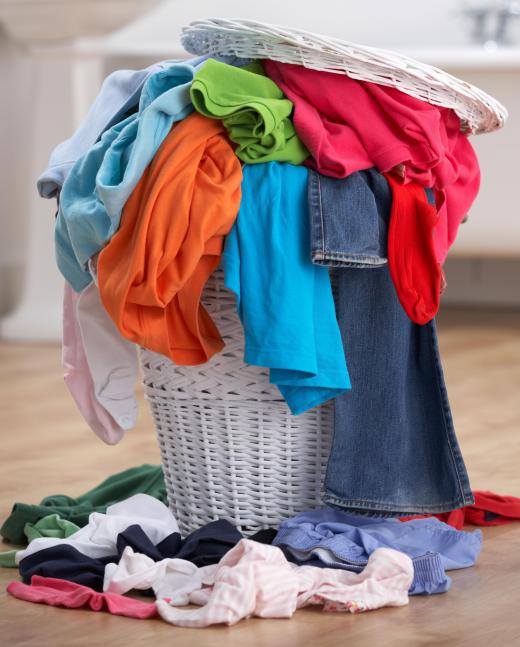 Finally, some laundry room accessories are primarily decorative in nature. For instance, wall decals, framed photographs, bulletin boards, and even a fresh coat of paint can be used to enhance the appearance of one's laundry room. While such decorative laundry room accessories may not be essential, they can lend a personal touch to the space, which in turn can make doing laundry more pleasant.
AS FEATURED ON:
AS FEATURED ON:

By: Ghost

Inside a clothes dryer.

By: Michael Flippo

Shirts on a clothes line.

By: elena korn

Laundry detergent.

By: Monkey Business

Wicker hampers may be used to organize dirty laundry.

By: WimL

Most people keep a bottle of bleach in their laundry room to wash white clothes.