What are the Different Types of Kitchen Linoleum?
Kitchen linoleum comes in three different types. Those types include tile, sheet, and rug linoleum. Aside from cost, the main difference between each kind of linoleum has to do with application. While most consumers purchase linoleum based solely upon price, this is often regarded as a large mistake.
Tile linoleum is often a great deal less expensive than sheet or rug linoleum. Those shopping for kitchen linoleum based on price may be tempted to purchase tile linoleum, though this material will not last very long. In fact, tile linoleum has a tendency to curl around the edges giving floors an aged look. This type of linoleum will have to be replaced as soon as the edges start to curl.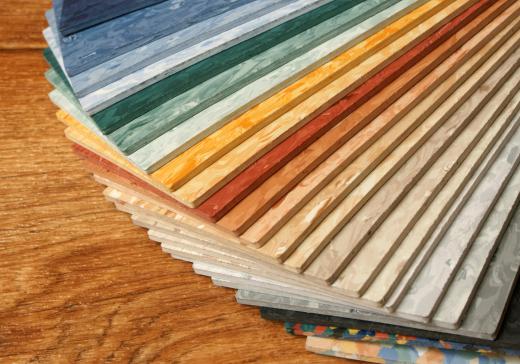 Contrastingly, sheet linoleum is a great choice for kitchen spaces. This kind of material often gives off a polished appearance making it quite popular with homeowners and designers alike. While sheet linoleum is more expensive than tile linoleum, it is often worth the extra cost. Inlaid sheet linoleum has the same quality as inlaid wood, which makes it quite durable and stylish.
Rug linoleum is a type of sheet linoleum that mimics patterns generally found in rugs. While some forms of rug linoleum can be pleasing aesthetically, this kind of kitchen linoleum is rarely found. Since rug linoleum was largely used during the 1930s, it is difficult to purchase this material today.
Even though linoleum was once considered boring and unimaginative, this material has made a resurgence lately. Earlier kitchen linoleum patterns evoked lots of earth tones creating a drab look. Today's linoleum comes in many different colors ranging from bright reds to intense yellow hues. These newer colors have prompted a lot of modern interest in linoleum as an appealing flooring option.
Aside from the fact that modern kitchen linoleum is vibrant and unique, linoleum also happens to be an eco-friendly flooring choice. Since linoleum is made from organic matter, it is considered a form of renewable material. Homeowners that are eco-conscious have begun selecting linoleum over all other flooring materials based upon its green appeal.
In addition, linoleum is an ideal material for those people that suffer from allergies. In fact, linoleum is widely used within sterile hospital environments, since it does not attract allergens. Homeowners looking for flooring that won't trap animal hair, dust, or dander may want to consider linoleum. Modern kitchen linoleum styles and colors can be found in almost any home hardware or flooring store.
AS FEATURED ON:
AS FEATURED ON:

By: Popova Olga

Sheet linoleum is a popular choice for kitchens.

By: sushaaa

Linoleum won't trap allergens, like pet dander.