What are the Different Types of Kitchen Cabinet Hinges?
Visible and invisible are the two main categories of kitchen cabinet hinges. This means the hinge either shows on the outside of the cabinet doors or it's hidden because it's positioned inside the door, although many types of hinges are only partially hidden. Kitchen cabinet hinges are available in many different finishes, such as chrome, brass, copper, black, polished and hammered. The style and shape options of hinges are plentiful and the type of hinge to use on a particular kitchen cabinet depends on its design.
Flush or butt hinges are the most basic type of hinge and are not at all decorative. These are straight-edged rectangular hinges with the hinged section in the center and two or three holes on each side of it. The holes hold flat head screws. A butt or flush hinge fits flat on the frame of kitchen cabinets. Although this type of hinge doesn't add a decorative touch, it is versatile as it can be mounted on the inside or outside of a cabinet door.
Reverse bevel kitchen cabinet hinges are designed to fit at a 30 degree angle. A reverse bevel hinge has a square of metal on one side of the hinged section. Reverse bevel hinges give a clean look to kitchen cabinets because they allow a cabinet door to be opened at a backward angle, so there is no need for outer door handles or pulls. European style hinges are designed for frameless cabinet styles and they are invisible on the outside of kitchen cabinets.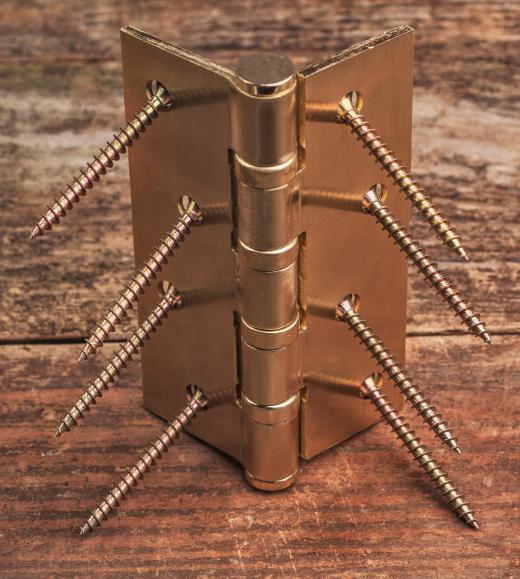 Surface mount hinges are completely visible on cabinet surfaces as half the hinge is on the frame and the other half lies on the door. These hinges are typically attached using round head screws. A surface mount hinge may also be called a butterfly hinge as many of these types of kitchen cabinet hinges are beautifully embossed or scrolled and have shapes similar to butterflies. Despite their fancy appearance, the surface mount hinge is considered simple to install.
Inset kitchen cabinet hinges are available in different types and are designed for cabinet doors that sit flush against the frame. These hinges are only partly invisible as one metal section shows on the frame, while the other fits inside the door. Half wraparound overlay kitchen cabinet hinges are a type of hinge that is ideal for heavier doors. A metal section of the wraparound overlay hinge wraps from the front to the back of the cabinet door to give it extra support.
AS FEATURED ON:
AS FEATURED ON:

By: Mr Doomits

Butt hinges are the traditional type of hinge commonly seen on doors.

By: Vladimirs Poplavskis

All basic hinges are made of three parts: Two arms and one pin.