What are the Different Types of Indoor Playground Equipment?
Indoor playground equipment is not entirely different from outdoor structures, but they are generally smaller, softer, and more modular. Adding interactive fun and creative play to stores, daycares, restaurants, preschools, parks, places of worship, and even homes, the different types of indoor playground equipment are designed to teach children cooperation, sharing, coordination, and imaginative games. They differ by size, type, targeted age group, skill, and modularity.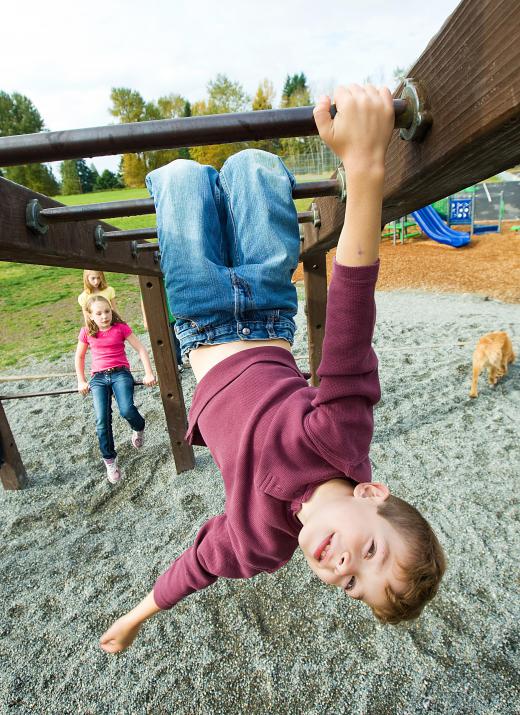 One particularly accessible model from among the different types of indoor playground equipment is the floor mat. Floor mats are sometimes combined with other activities, but by themselves they are very effective at keeping children's interest. These are rubber, carpeted, or plastic sections of flooring that are dyed or woven to form puzzles, games, or mazes. For example, they may have a tic-tac-toe game board with Velcro X's and O's, or a racetrack with small felt cars.
Obstacle courses are a more physical play system. This type of indoor playground equipment combines creativity with exercise. An obstacle course has different elements that can be used separately, but it's designed for a child to run through successively. These develop a child's motor coordination. For example, the course may have children slide down a ramp, balance across a beam, climb a rope wall, jump down a platform, slide down a fire fighter's pole, and pull themselves across monkey bars.
Obstacle courses could be seen as one way of playing with a large-scale play system like a jungle gym. These multi-level, plastic structures allow lots of children to climb, swing, jump, slide, hang, and tumble as they navigate different areas. These types of indoor playground equipment are permanently installed at community centers and schools to handle a whole class of children during day care or recess.
Inflatable bouncy castles are another example of indoor playground equipment. These are blown-up platforms or rooms that let children jump, bounce, and tumble without fear of falling or striking a hard surface. Sometimes they are combined with other toys like plastic balls or soft Frisbees. They come in a wide variety of thematic shapes, most popularly castles, but also carousels and spaceships.
A final, smaller scale type of indoor playground equipment has become popular for parents to set up in their own homes. Soft, modular, fabric tubes look like guinea pig mazes but give more adaptability to kids. These tubes, supported by coils of bendable plastic, can be tied together to make long tunnels. They'll also connect to interior rooms, like tents, to create many possible layouts. Older children will enjoy the creative control over these tubes as they crawl through them, play hide-n-seek, tag, or camp out inside.


By: Tammy Mobley

Some playgrounds feature a seesaw, or teeter-tooter.

By: Mat Hayward

Monkey bars can be easily assembled indoors.

By: smuki

Slides may be part of an obstacle course in an indoor playground.

By: Shmel

Floor mats can reduce the number and extent of indoor playground injuries.