What are the Different Types of Garden Gates?
Garden gates give pedestrian access to an garden space or yard. Gates are typically chosen to coordinate with fencing, but are meant to have a distinct design that sets them visually apart from the fence. There are many different kinds of garden gates available; common materials for garden gates include wood, aluminum, steel, and wrought iron.
Aluminum garden gates are useful as security measures, as they can be built quite tall and are very sturdy. They are sometimes simple vertical bar gates, but may also be made to resemble wrought iron styles. Depending on the manufacturer, an aluminum garden gate may cost about the same or slightly more than a steel garden gate. Gates made from either material can be highly decorative, and are often used to complement formal garden styles.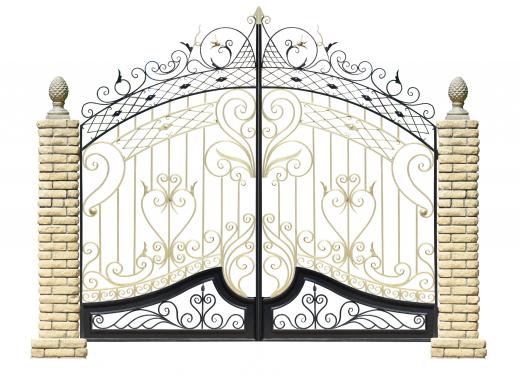 Wooden gates have a reputation as being far more rustic than metal gates, but can be quite beautiful. Amenable to painting and available in an endless variety of styles, wooden garden gates match beautifully with natural material fences, such as stone, wooden, or plant-covered styles. Wooden gates also have the advantage of being an easy do-it-yourself project, whereas most metal gates come as finished products and cannot be modified.
A trellis garden gate can be a beautiful entrance to a garden or yard. These gates feature a roofed structure and latticed or openwork sides that are used to support climbing plants. Trellises must be relatively sturdy and made of durable material, in order to withstand the pressure and invasive nature of climbing plants. Good climbing plants to train over a trellis gate include ivy, purple solanum, wisteria, or jasmine.
Decorative or ornamental garden gates often include an artistic element built into the design. This could include carved vines and flowers in a metal gate, or even an elaborate paint job on a wooden gate. Glass may also sometimes be incorporated into metal garden gate designs to contrast with the metal. Wooden gates may also sometimes feature decorative carvings or cut outs that catch the eye.
Gates can be made from a variety of unusual materials; in some cases, all that is necessary is a few hinges and some imagination. Getting creative with a garden gate idea is also a great way to reuse materials in an interesting way. Create a beach-inspired garden gate by building a wooden gate out of old rowing oars, or make it a trellis by using an old rowboat as the roof and driftwood for the gate.
AS FEATURED ON:
AS FEATURED ON:

By: Swet

Wrought iron is a common material used to make garden gates.

By: Helen Hotson

A beach inspired garden may feature a gate made from driftwood.