What are the Different Types of Garden Fences?
Garden fence panels are available in a wide variety of looks. From the old-fashioned white picket fence to tropical bamboo fencing, garden fences add a finished look to a yard as well as provide privacy and an enclosed area for pets and children. Bamboo, wrought iron, chain link, plank and picket are some of the most popular types of garden fencing used today.
A picket fence has horizontal wood boards near the top and bottom. Pickets, or pointed-topped flat wood slats, are nailed vertically onto the two boards at even intervals. The spaces left between the pickets are the approximate width of each picket. Classically, wood picket garden fences are painted white. The gates to enter and exit picket fences are typically in the same style as the rest of the fencing except the top of the gate which may be rounded rather than pointed.
Wood plank garden fences are also called privacy fencing since there are no gaps between the planks and they are usually a tall type of fence. The planks are typically quite flat, yet heavy, and the fence is usually sturdy. The wood used for these fences may have a rough, rugged texture and is often painted the same color as the house. A wood plank fence can make a good backdrop for a garden trellis to display climbing plants.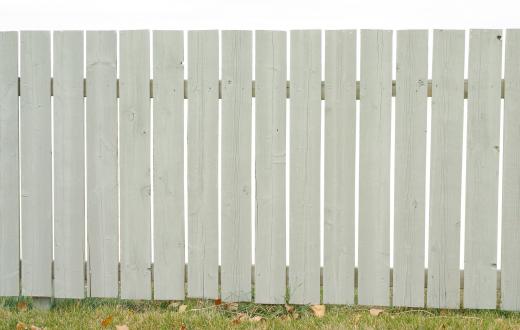 Chain link fencing is made up of criss-crossing metal links that create openings throughout the fence. Chain link fences are available in many different heights and with different thicknesses of metal links. The metal may be silver-colored or covered in a green or brown synthetic coating. Gates are available in a single style that is opened and closed from one side or a double style that has a latch in the center of two gate panels. The double chain link gate style allows it to be used for vehicles to enter and exit from parking located near the garden area.
Wrought iron fences feature beautiful scrolled designs. They are also known as ornamental fences as the black iron has been wrought, or heated and shaped, into ornate patterns. The tops of the iron fence posts may be rounded, pointed or feature metal cut out shapes such as animals or stars.
Bamboo fencing offers a tropical look to a home garden fence. Vertical poles of bamboo are attached together closely to form a solid, yet light colored privacy wall. An advantage of bamboo garden fences is that they are lightweight and easy to handle.
AS FEATURED ON:
AS FEATURED ON:

A house with a picket fence.

By: Johanna Goodyear

Wood picket garden fences are traditionally painted white or whitewashed.

By: Jon Le-Bon

Chain link fence fabric is made from galvanized steel mesh.