What Are the Different Types of Environmentally Friendly Light Bulbs?
Eco-friendly light bulbs are considered better for the environment than incandescent bulbs. They save energy, so while they tend to cost more upfront than traditional bulbs, they result in savings on utility bills every month. One of the most popular environmentally friendly light bulbs is the compact fluorescent bulb (CFL), which uses less energy and lasts much longer than incandescent bulbs. Light-emitting diode (LED) bulbs are also considered energy-efficient lighting, as both the lifespan and light quality are superior. A high-efficiency halogen lamp (HEHL) is another type of eco-friendly light and is often the best type to use with dimmable switches, because it saves energy when dimmed often.
Compact fluorescent bulbs use much less energy than incandescent bulbs, which means they pollute less, because fewer harmful gases are released by these bulbs. This equates to lower electricity bills for homeowners. These bulbs also last longer than traditional bulbs, so while they are more expensive upfront, homeowners usually end up buying fewer bulbs, in general. These environmentally friendly light bulbs last up to 12,000 hours, while the maximum lifespan of incandescent bulbs is closer to 3,000 hours. It should be noted, however, that CFL bulbs dim over time, are not ideal for dimmable fixtures, and make take up to 30 seconds to reach full brightness when switched on.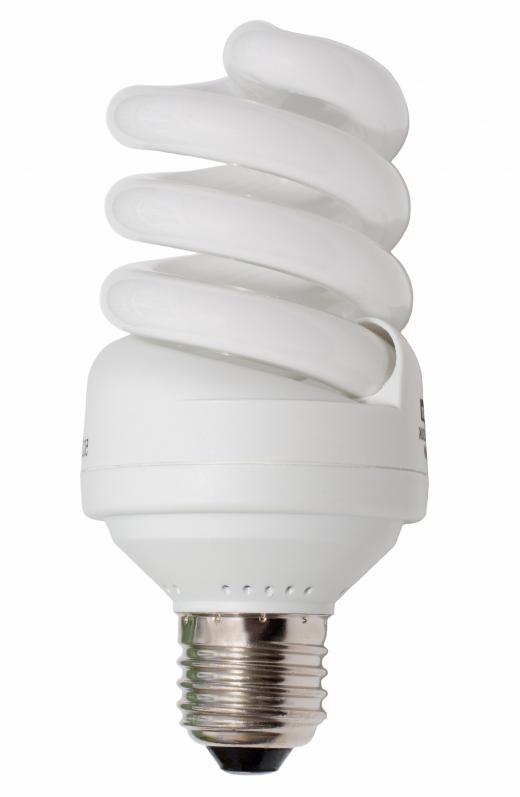 Other environmentally friendly light bulbs include light-emitting diode bulbs, which last even longer than compact fluorescent bulbs. They also tend to be costlier, and offer a much dimmer light than CFL bulbs. LED bulbs are typically best as task lighting in under-cabinet lights, reading lamps, etc. They also tend to fare well outside, particularly in pathway lighting and porch lights. LED bulbs come in various colors, as well as traditional white light.
Additional options for environmentally friendly light bulbs include high-efficiency halogen lamps. These are best for use in dimmable light fixtures, because they last the longest, compared to other bulbs, when dimmed. Even when they are not dimmed, they have a long lifespan, though not quite as long as CFL bulbs. High-efficiency halogen lamps do not contain mercury, which means these environmentally friendly light bulbs do not have to be carefully recycled when they are dead, as bulbs that contain mercury do. While HEHL bulbs are not the longest lasting eco-friendly light bulbs on the market, they are typically the brightest and are considered friendlier for the environment than incandescent lighting.
AS FEATURED ON:
AS FEATURED ON:

By: li_al

An energy efficient CFL light bulb.

By: zhaubasar

Modern electronic ballasts are efficient.

By: dpchung

LED lights are good for task lighting, such as lights underneath cabinets that light the countertop below.

By: Christophe ROURE

Fluorescent lights use less energy and last up to six times longer than incandescent lights.