What are the Different Types of Entrance Gates?
There are many types of entrance gates, and the style depends on their location and purpose. Design can be decorative, practical, or both. Entrance gates come in different sizes and materials and are used to access driveways, gardens, fields, swimming pools, and walks. Most gates are made of wood, vinyl, wrought iron, or aluminum, with either a swing or slide design and are designed to allow either pedestrians or vehicles access. Some entrance gates must be manually opened and closed, while others are automated.
Wooden entrance gates can be found in many different designs, types of wood, and colors. The wood must be treated to prevent rot and termite damage, and should be painted every few years in order to retain both structural integrity and beauty. A wooden entrance gate is a good choice for those who like to change the colors of the home or nearby buildings periodically, since the gate can be repainted to match.
Vinyl entrance gates cost about the same as wooden gates and require less maintenance, since they retain their color for a lifetime and do not need to be painted. People who like to change the color of their entrance gates periodically might see this as a drawback since paint won't adhere to vinyl, so changing the color of a vinyl gate would require a full gate replacement. Vinyl has a stronger tensile strength than wood and has the ability to flex, making it an excellent choice as an entrance gate to a pen or field that holds livestock.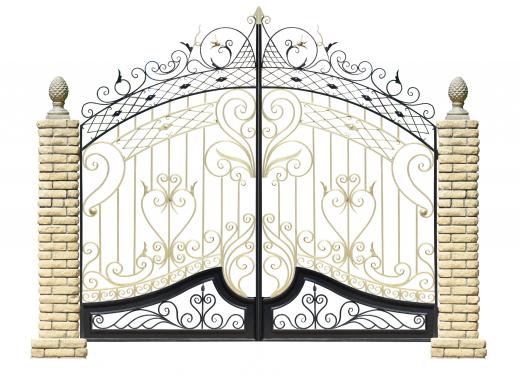 Wrought iron entrance gates are extremely sturdy and can be found in designs to match the style of nearly any home. They are more expensive than wood or vinyl gates, but wrought iron is the best choice for security. Wrought iron is more durable than wood or vinyl and will last for many years with proper maintenance. If left untreated, iron will eventually rust, but painting the gate every few years will repel corrosion, allowing the wrought iron gate to retain its original beauty for many years.
Aluminum entrance gates are a good choice in corrosive climates, and they are relatively maintenance-free because aluminum is resistant to rust. Chain link gates and fencing made of aluminum are often used for pool enclosures, since they can prevent young children from getting inside and also provide a full view of the pool area. Aluminum gates are also available in colors and styles that give the appearance of wrought iron while costing much less.
AS FEATURED ON:
AS FEATURED ON:

By: photo_journey

Wooden entrance gates must to treated to prevent rot and termite damage.

By: Swet

Because wrought iron is very sturdy, they are often thought to be the best choice for security.