What are the Different Types of Drop Cloth?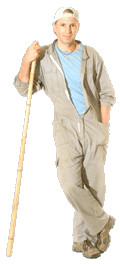 There are four types of drop cloth to choose from when starting a painting project: cotton canvas, paper, plastic and paper/poly. Each has its own advantages and disadvantages. Choice rests on considerations of cost, durability, and appropriateness of use.
Most expensive and most durable is the canvas drop cloth. These cloths must be thick enough to absorb drops or spillage of paint. Some are available with rubber or butyl backing which are non-permeable materials that resist slippage and also helps to prevent paint from soaking through the canvas. Canvas drop cloths come in a variety of thicknesses, and in general, the consumer wants the heaviest one possible. These cloths can be used and reused, so the painter who is planning frequent projects, or the professional painter, should have a supply of these on hand.
Canvas drop cloths are expensive as compared to the other types available. But for someone who paints frequently and especially for professionals, the ability to use the cloths over and again makes these an economical choice in the long run. Longevity makes canvas the most environmentally friendly choice as well.
In contrast, a paper drop cloth will probably only survive one use. This type of drop cloth is not recommended for outdoor work, unless one can weigh them down. But for a one-time job to be done indoors, a paper drop cloth is an inexpensive way of covering both floors and furniture.
Plastic drop cloths are also excellent for covering furniture, and are equally inexpensive. They have the advantage of not absorbing the paint, so objects or floors covered with plastic will not get stained. Like paper, plastic is very light, so it is not a recommended source of protection for outside work where it can easily blow away. Additionally, plastic is very slippery. Since it does not absorb the paint, spilled paint will transfer easily to your feet and clothing. Thus cleanup after a painting job may be laborious.
The final type of drop cloth to consider is the paper/poly drop cloth. It provides the advantages of both plastic and paper. Because of the paper content, the painter is less likely to slip, and more paint will be absorbed in case of a spill, thus lessening the transfer of paint to clothing or feet. The plastic backing assures excellent coverage of surfaces, and since these are one-time use drop cloths, they can be cut to fit any surface.
Use of a specific type of drop cloth, then, depends largely on the needs of the painter. For one-time use, the paper/poly is probably the best choice. Though plastic alone will probably most securely cover objects like furniture. A variety of the three lightweight cloths will fit all your needs for coverage. However, if one is planning an outdoor job, or planning to paint frequently, butyl backed canvas, or heavy canvas are the most likely choices.


Worker