What are the Different Types of Downspout Accessories?
Most ordinary downspouts can be modified to perform certain special functions through the use of different types of downspout accessories. These easy to install downspout accessories can help utilize rainwater for lawns, gardens, storage, or other purposes. The most commonly used downspout accessories are known by names such as flex elbow, splash block, rain barrel, downspout rain drain, and gutter wedge.
A flex elbow is typically used to join a downspout to a gutter, although it may also be utilized to redirect the downspout towards other accessories such as rain barrels or rain drains. These downspout accessories have the ability to retain their shape once they are bent and are often used to avoid obstacles may lie in the path of the downspout. Multiple flex elbows are sometimes used with a single downspout.
Splash blocks are often installed in place of a flex elbow to safely direct rainwater away from a building's foundation. When used together with an ordinary downspout, a splash block acts as a type of ramp to help channel running water out onto the lawn. This type of accessory can often prevent a home's foundation from being undermined by rainwater runoff.
A rain barrel can often be installed directly beneath a downspout to collect rainwater for future use. When it rains, the rain barrel is filled with water, which can later be used, for lawns and gardens. Rain barrels usually have some type some type of overflow prevention mechanism to dispose of excess water. Filters are sometimes attached to the end of the downspout to prevent debris from accumulating in the rain barrel.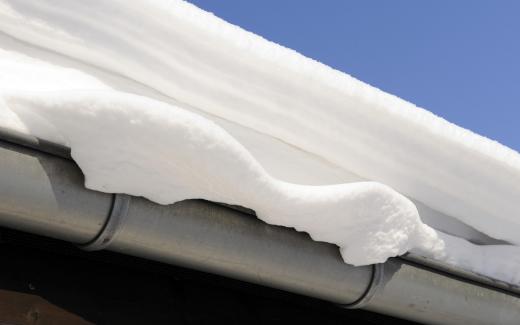 A downspout rain drain is basically a flattened hose, which has many small holes in it. This hose can be attached to the downspout and laid across a garden or lawn. As the hose fills with water it becomes a type of sprinkler for plants and grass. Since downspout rain drains lie flat during dry weather, they can usually be left in place during mowing.
Gutter wedges are drain filters that are typically installed near the mouth of a downspout. Gutters often become filled with twigs, leaves, and other kinds of debris, which can potentially block the entrance to the downspout and inhibit proper drainage. A gutter wedge will usually prevent this type of problem from occurring. These downspout accessories are wedge shaped and have openings on all sides to allow water to flow through them from any direction.
AS FEATURED ON:
AS FEATURED ON:

By: Amy Walters

A home's downspout diverts water away from the gutter system.

By: soupstock

Gutter wedges prevent the debris that gets lodged in gutters from making its way into downspouts.

By: Omika

Open gutters can become clogged by snow which can prevent downsprouts from functioning properly.