What are the Different Types of Concrete Coatings?
Several different types of concrete coatings are available to protect a surface from contamination and deterioration. Penetrating sealers provide an invisible layer of protection against temperature extremes and harsh chemicals. Acrylic sealers produce a thin film that protects the concrete surface. Polyurethane concrete coatings are usually thicker and more durable than ordinary sealers. Epoxy coatings are scratch-resistant and provide a colorful appearance. A concrete overlay may also be applied to restore a smooth finish to a surface.
Penetrating sealers are usually applied as an exterior concrete coating. This coating penetrates the surface to create a barrier against moisture and deicing chemicals. These sealers are transparent when applied and do not alter the natural appearance of the material. They also provide protection from freezing temperatures and sunlight. A penetrating sealer is easily applied and is one of the least expensive coatings for concrete.
An acrylic sealer works at the surface to protect the material from damage. Acrylic concrete coatings can be applied to both interior and exterior surfaces and are available in an oil or water base. This sealer variant dries quickly and can be purchased in finishes ranging from glossy to matte. Acrylic sealers used on interior surfaces typically require frequent maintenance, however. This type of coating is relatively inexpensive and easy to apply.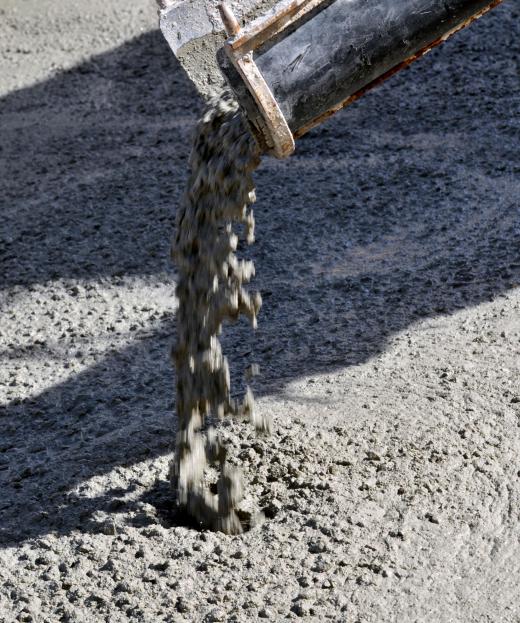 Polyurethane concrete coatings typically produce a high-gloss finish. This transparent sealer can be purchased in an oil or water based formula and usually requires a coat of primer before being applied. Polyurethane coatings are often used in high traffic locations because of their superior durability. This material is generally much thicker than acrylic and penetrating sealers and can be applied to interior and exterior surfaces. A pigment may be added to the coating to produce a more colorful surface.
Epoxy concrete coatings are typically applied in a two component process although single component formulas are also available. This coating material is frequently sold with sand or colored chips added to produce different colors and textures. An epoxy coating is very durable and resistant to scratches and chemicals. A textured topcoat can be applied to this material to make it more slip resistant. Epoxy concrete coatings typically require several days of drying time.
 A thin concrete overlay can also be applied as a surface coating. This material is typically used for restoring cracked, chipped, and uneven concrete surfaces. Some specialized concrete overlays contain polymer resins for added strength and durability. This thinly applied material usually cures in a few hours and is an inexpensive repair option. Concrete overlays can be stenciled, stamped, textured, or stained to produce an attractive surface.
AS FEATURED ON:
AS FEATURED ON:

A thin concrete overlay can be used to restore cracked surfaces.

By: uwimages

Wet concrete being poured.

By: Lilyana Vynogradova

A man smoothing out a concrete floor.

By: csimagemakers

Concrete floors should be sanded to a smooth finish before most coatings are applied.